Disappointment Thursday night turned to elation less than 24 hours later when the Arizona Cardinals opened the second round of the NFL draft by selecting cornerback Byron Murphy with the 33rd overall pick on Friday.
"I grew up watching the #AZCardinals."#CardsDraft | @byronmurphy pic.twitter.com/jzgzrCx1YU

— Arizona Cardinals (@AZCardinals) April 27, 2019
Long projected a first-round target, the former Saguaro High and University of Washington star was clearly shaken when his name wasn't called in the opening round.
But, much like former #SagU teammate Christian Kirk, good things sometimes come to those who wait.
"I thought I was [going to go] first round but I know God had a plan for me," Murphy said to Sports360AZ.com shortly after the selection. "I just stayed confident in myself. Also having my family here. They were here and happy for me."
Probably the happiest of the group was Murphy's mother who helped her son overcome the disappointment just hours earlier.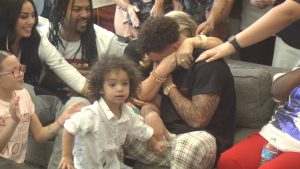 — Christian Kirk (@ChristianDavon2) April 27, 2019
A high school All-American both on offense and defense, Murphy would spend two productive seasons at the University of Washington before arriving back to the desert to continue his football career.
"I'm proud of where he's gone as a man and a father," Mohns said of Murphy. "I'm so happy for him."