By Andrew Bell
One Arizona hockey player made history in the place labeled as the "State of Hockey" last month.
Katie McGovern, a Scottsdale native who grew up an Arizona Coyotes fan playing youth hockey in the Valley, registered the game-winning assist in the National Women's Hockey League's (NWHL) Isobel Cup Championship on March 17 with the Minnesota Whitecaps.
In a 1-1 game that went to sudden death overtime with the Buffalo Beauts, McGovern stepped into the face-off circle.
The puck was dropped and McGovern won the draw cleanly back to four-time World Champion and Team USA Olympic Gold Medalist Lee Stecklein, who proceeded to wrist a shot toward the net.
"It was funny because we were in the locker room going into overtime and we were just like, 'Let's get this game over with. Let's end it early,'" said McGovern recalling overtime. "I know draws are huge and I felt pretty good about the draws that day. I won it back to Lee…She took a great shot. We had a few people in front of the net screening her (Buffalo's goalie) and I think it went in five-hole…and then I just threw the gloves and hugged her. The rest was history."
GUESS WHAT MINNESOTA WE WON@LeeSteck2 pic.twitter.com/nV2kESeUS5

— Minnesota Whitecaps (@WhitecapsHockey) March 17, 2019
49 seconds into overtime and in front of a sold out crowd at the Tria Rink in St. Paul, Minnesota, the Whitecaps became NWHL Champions in their first season in the league. McGovern won the face-off to seal a 2-1 championship victory.
The moment will stand out in Whitecaps lore and it was a big memento for McGovern, who was coaching youth hockey and teaching physical education classes at Pueblo Del Sol Middle School in Phoenix at this time last year.
A graduate and four-year standout in college at the University of Minnesota-Duluth, McGovern returned back home after college. She began helping with local girls youth programs and was an assistant coach on the ASU women's club hockey team in addition to her teaching responsibilities.
McGovern enjoyed coaching but her passion to play was still prevalent.
"It was just tough last year stepping away from the game. I feel like in college, you are at your peak and then you are just done," McGovern said. "Working full-time and not being an athlete was kind of weird."
McGovern played in local adult leagues with friends and even won won a gold medal in July at the World Inline Championship with fellow Arizona hockey player Lyndsey Fry, who has began her own Small Frys girls hockey programs in Arizona to help develop women's hockey. McGovern has helped coach in the Small Frys system too.
However, when the Whitecaps joined the NWHL, McGovern found her path back to playing. She booked a flight back to Minnesota in the middle of an Arizona Summer.
"They released that they were becoming a team in May. I just remember it was at the end of the school year. I kind of thought about it and talked about it with my family. I thought this was too good of an opportunity to pass up," McGovern said. "I had a tryout at the end of July. I found out I made it the first week in August…Once I found out I made it, I was so excited. I couldn't believe I was going to play hockey again and play professionally."
Suddenly, McGovern was on the same roster as Olympic Gold Medalists such as Stecklein, Hannah Brandt, and Kendall Coyne Schofield. She wasn't just a name on a long list, either. On October 6, McGovern engraved her name in more Whitecaps history. She scored the first NWHL goal in franchise history.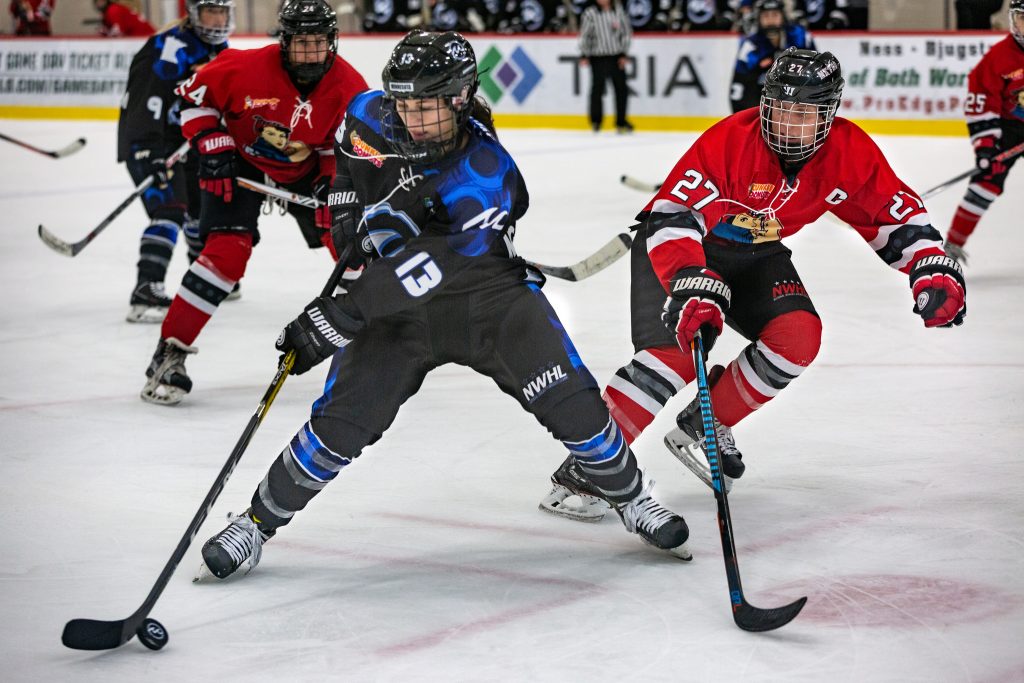 "That was pretty sweet," said McGovern of the first goal. "We were on a power play and My linemate Jonna (Curtis) hit me in the slot. It happened so quick. It was so exciting."
The excitement and success of McGovern's first year with the Whitecaps didn't come without its challenges, however. Most notably, the trips to practices. In addition to playing professionally, McGovern worked jobs as a substitute teacher and was living in Duluth, which is about a two-hour drive from the Whitecaps home facility at the Tria Rink. She'd make back-and-forth ventures with teammates in the midst of a Minnesota winter.
"I had to commute two hours to practice twice a week. I did that with two other girls so we got to carpool," McGovern said. "It got to be a lot because sometimes we would practice at 9 p.m. and we'd get off the ice at 10, get on the road at 10:15 at the earliest, and I'd get home at one o'clock. Then I'd go to work the next day. That was kind of tough when practices were late and sometimes we had back-to-back practices."
Nonetheless, Jack Brodt, who is the Whitecaps' head coach and general manager, often let McGovern and her teammates stay at his nearby lake house, preventing any extra wear and tear from the two-hour trek.
The commute and the extra work schedule might seem like a lot, but for McGovern, it was all worth it. She's a champion and she gets to continue playing the sport she loves.
On Sunday, McGovern was recognized at the Arizona Coyotes game. Ironically, the Coyotes matchup was against the Minnesota Wild, whose practice facility is the Tria Rink. It's the same ice sheet that both the Whitecaps and the Wild use.
We capped off #GenderEqualityMonth with a visit from @katie_mcgov13 of @WhitecapsHockey.

Thanks for all you do to help us #GrowTheGameAZ. ? pic.twitter.com/WLMGBhwRAd

— Arizona Coyotes (@ArizonaCoyotes) April 1, 2019
McGovern is now back home in the Valley for the offseason, where she continues to develop the next generation of female Arizona hockey players.
She continues coaching with the Small Frys and will have a hand with the Arizona Kachinas, which is one of the newest girls hockey associations in Arizona. The program is partnered with the Coyotes, as further outreach continues to develop with hockey in Arizona.
The Isobel Cup will be making an appearance in the Grand Canyon State in the near future too. McGovern is planning a day to bring the trophy home to the local Arizona hockey community. Down the line, the hope is that she won't be the only female player from Arizona to be an Isobel Cup Champion.
"I am working on a date right now but I plan on having it home," McGovern said. "Hopefully we will be getting together with the Small Frys, Arizona girls, and whoever wants to come just to celebrate it for the day. It's coming to Arizona. Stay tuned."