By Andrew Bell
The Hamilton High softball program has competed in the 6A State Championship Game at Arizona State's Farrington Stadium for the last three years. For three players on the Husky roster, that meant playing on their future home field.
Abby Andersen, Bella Loomis, and Macy Simmons all hail from a Hamilton program that has become a softball powerhouse in the state of Arizona. They were a part of back-to-back state championship teams in 2016 and 2017, and the trio of talent will continue their journey together just down the road at Arizona State.
Loomis is already a sophomore middle infielder at ASU while Andersen is a freshman pitcher for the Sun Devils. Simmons is a catcher in her senior year at HHS. She will rejoin her teammates next season in Tempe.
"I love seeing former teammates do super well in college," said Simmons of Loomis and Andersen. "I can't wait to play with them next year."
Fans, please help us welcome a local talent, @macyalexandra3, to the #SunDevilFamily ?#StayTrueASU pic.twitter.com/a07RIjjWcw

— Sun Devil Softball (@ASUSoftball) November 15, 2018
Loomis is in the midst of a breakout sophomore season at ASU. She is batting .361 with 34 RBI's in 32 games played. She has started every game at second base and she is tied for second on the team in home runs.
Andersen is 9-4 with a 2.36 ERA as a true freshman.
Simmons is a MaxPreps First Team All-American who hit over .500 last season. She was named to the Team USA World Junior National Team in December. She will look to make an immediate impact at ASU. But before that, she will round out her final year of high school ball with her coach, Lauren Regester.
Regester, who played college softball at Grand Canyon University, noted it's a special bond between her and Simmons. Regester's first year of coaching high school softball was Simmons' freshman year. Thus, Regester has seen Simmons' talent and maturity develop.
"I remember her first year at Hamilton was my first year coaching high school ball," Regester said. "I made a comment to her one time that was like, 'Stop acting like a 14-year old,' and she was like, 'I am a 14-year old.' It was so crazy for me to realize that I guess. She has been a leader on the field since her freshman year and one of the most powerful kids since her freshman year. It's cool because I joke that her freshman year was my freshman year. It has been amazing to watch her grow."
Aside from the field, Regester also knows what Simmons, Loomis, and Andersen are like in the classroom. When she's not coaching, Regester is an English teacher at Hamilton. She had all three players in her class at one point in time.
While all three players have similar traits in regards to being high-caliber softball players, they don't all have the same personality.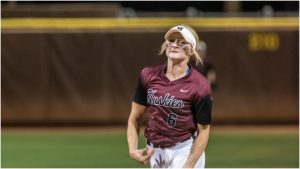 "I have had the pleasure of having all three of them in my English class," Regester said. "People have asked me before what they are like and they are all so different. Bella was the hard-worker on the field that didn't really talk much. Abby never ever stopped talking and Macy is kind of a mixture of both of them. She leads by example…All three are so different but I think but it's going to be something special seeing all three of them in a Devils uniform."
At ASU, Simmons will have family nearby. Her brother Chaz, already attends ASU and is currently running for Undergraduate Student President. In addition to Simmons' family, Andersen's brother is on the men's golf team at ASU.
Between Loomis, Andersen, and Simmons, the trio of players will be facing familiar faces when they take the field at ASU as well. They aren't the only Huskies playing in the Pac-12.
One of Loomis' closest teammates at Hamilton was Taylor Gindlesperger. She is now at Stanford and the two former teammates will face off in conference play in late April.
Loomis said that during her freshman year at Hamilton was when the softball program really began to take off. It has created a plethora of talent that continues to compete for state titles and Division I scholarships.
"My freshman year was kind of the turning point for Hamilton because that was the first year that we made it far in the playoffs," Loomis said. "We just took that year and built on it all the way up until now…They are really working hard with all the girls and making it an elite program."
Andersen transferred from Basha High School to Hamilton in her sophomore year. She integrated into the program immediately and she reiterated Loomis' point.
"It was just a dominant team and I was grateful for that because a lot of times, high school ball teams aren't as dominant," Andersen said. "You kind of lose a few months of quality playing time because you are not playing with the girls that you would play with in club ball. It was just fun and high intensity."