D.J. Foster's 2018 season ended before it really even started. On a late August night in Arlington, Texas the Arizona Cardinals running back suffered a torn ACL and was carted off the turf in significant pain. Now, six months later, the former Saguaro High School and Arizona State star is continuing to put in the work in hopes of returning to top form in the coming weeks.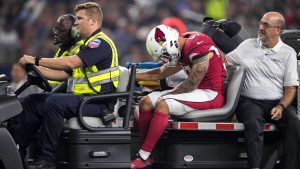 "It's such a small group of guys and you just become really close," Foster explained. "Being with David [Johnson] and even guys like Chase Edmonds. Seeing them progress and just grinding through training camp. They get to see your good times and bad times…just being with those guys, being in that room. It's a great feeling."
During his rehab last fall, Foster also kept a close eye on his alma mater in Tempe, as well as fellow Valley prep standout N'Keal Harry, who just competed in the NFL Combine in Indianapolis.
For Foster, it's back to work hoping to pick up where he left off before that Sunday evening in The Lonestar State.