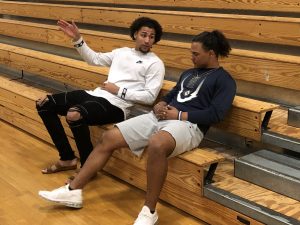 "It was tough," Poindexter explained to Sports360AZ.com. "If you don't have self-respect or a purpose you kind of just find yourself giving yourself to anything and everything people offer you. Falling into peer pressures really set me back."
Poindexter's self-reflection and faith eventually led him back to school and football at nearby Glendale Community College. He thrived on and off the field and after his freshman year was encouraged by GCC assistant coach Jason Jewell to explore his Division I options. He had offers from South Dakota State and Marshall but opted not to sign with either.
Neither "felt right" but the late offer from UofA did, even though Poindexter was far from the Cats' top choice.
"What they saw was a throw away offer," he explained. "They didn't get the recruits they wanted so they offered me. I saw it as a blessing and I took advantage of it."