After a relatively slow offseason leading into the 2018 season, the Arizona Diamondbacks pulled off a three-team trade that brought in outfielder Steven Souza Jr. and pitching prospect Taylor Widener.
It was a move that made perfect sense for the team as they tried to continue their playoff push without J.D. Martinez, and it earned rave reviews from baseball voices.
They reported to Salt River Field a year ago today.
There were pros and cons for Souza when being dealt after spring training had already started.
"Chaos, that's what I remember," Souza said. "I remember being in Florida just settling in because I just got back from my grandpa having a heart attack and getting back and settled in with those guys. Then, getting shipped right back (to Arizona) trying to get my dog, all my cars, all my stuff back and then coming here and trying to speed up relationships.
"At the same time it was exciting because I knew the team we had last year and I knew a lot of guys. It was chaotic but it was exciting."
Souza had to get to know his new teammates and surroundings while coordinating a cross-country move for his family.
"You're basically asked to mesh with a new 25 guys and so these guys made it real easy on me and it was a smooth transition, but it's a lot and it can be really tough for some people."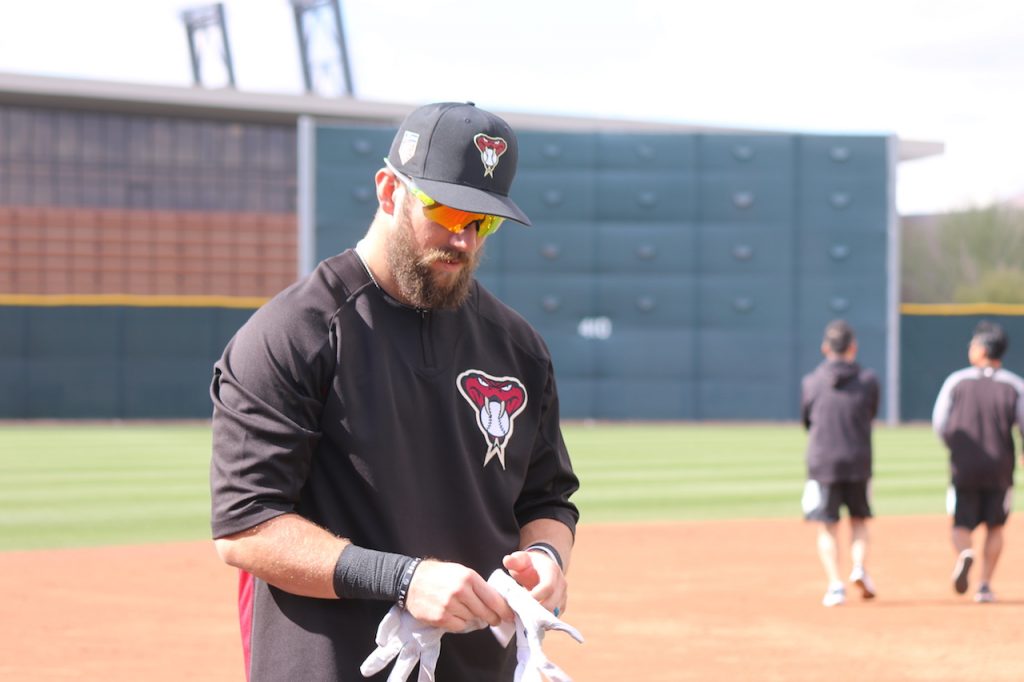 Widener was shortly moved to the minor league camp after the trade, but said the team helped him get up to speed quickly.
"Whenver I got here last year, I was welcomed with opened arms," Widener said. "This organization has been nothing but good to me. They made the transition really easy for me."
Widener said Zack Godley, a fellow South Carolinian, was particularly helpful in the clubhouse. Souza said Paul Goldschmidt and Jake Lamb did the same for him.
While the two players had to go through similar transitions in spring trainig, their 2018 seasons were very different for them.
Widener went to Double-A Jackson and in 25 starts, he threw 137.1 innings and struck out 176 with a 2.75 innings. He was named the Diamondbacks Minor League Pitcher of the Year. Part of that success was due to an expanded repertoire.
The #Dbacks name Jazz Chisholm and Taylor Widener the organization's Minor League Player and Pitcher of the Year. Fantastic seasons, guys! #GenerationDbacks pic.twitter.com/jUzSO2lZsV

— Arizona Diamondbacks (@Dbacks) September 24, 2018
"The Diamondbacks just forced me to throw all my pitches and utilize my changeup more," Widener said. "It just really helped me grow, and I'm seeing a lot more confidence in it."
Souza suffered a pectoral injury in spring training that led to multiple stints on the disabled list. He appeared in only 70 games last year. When he returned to the lineup, he hit .220 with five home runs and 29 RBIs, down from his previous year with Tampa Bay where he hit 30 home runs and drove in 78.
"Frustrating," Souza said of his 2018 season. "Just with the injury, couldn't get rid of it. The performance was just down. I'm looking to rebound, and it's a big year for me to show I'm not just a one-hit wonder or two years in a row that I've had success and can sustain it and I'm excited to do that for this team."
Manager Torey Lovullo has seen a change in both players now that they've had full offseasons with the club.
"It's just nice to get to know both players on a different level where you've kind of worked through the newness of a relationship or a friendship," Lovullo said.
Now, Widener is the #2 prospect in the Diamondbacks' farm system and #83 overall prospect according to MLB.com. He's looking to take his next steps in development by throwing his off-speed pitches consistently.
Souza has been making tweaks to his offseason approach to come in ready for a bounce-back year.
"I've done some things in the weight room that have been altered," Souza said.
"I've been really, really kind of thick in the past, and I'm just trying to stay lean and make sure my muscles are recovered a lot more…Other than that, I know what I've been doing at the plate for a long time and I'm looking to do that again."
But the most important change this offseason for the two players is that there wasn't one with the name on the front of the jersey, helping them hit the ground running.
"When they're comfortable here, they can take care of their business (on the field)," Lovullo said. "I think we've accomplished that with both guys."