Note from Sports360AZ CEO Brad Cesmat:Wednesday is College Football National Letter of Intent Day. We asked Saguaro safety Nate Polk, who's signed with Air Force, to share his high school experiences on and off the field, as well as why AFA was the best fit for him to continue his academic and athletic career.
From a young age, I knew I was going to play college football. Football has always been a large part of my life, as well as my families. My father was a talented football player. He played defense at Oklahoma State 1980-1984 and was drafted into the NFL. He played with the Raiders and Buccaneers and always stepped up to help with our youth football programs. Looking back, I was blessed to have a father that would mentor and coach me on and off the field.
Some of my fondest memories were my family watching my older brother Ray play high school football at Brophy. Friday's were one of my favorite nights of the week. He continued playing at University of Colorado and was later picked up by the Seahawks then the Jaguars. After his football career ended he said he wanted to be apart of something bigger than himself and football. He became an Officer in the Army and is now an Army Ranger. I am so proud of his accomplishments. He truly is my mentor.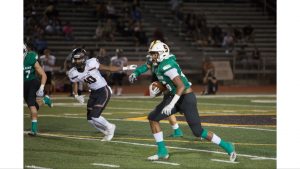 I grew up in the Saguaro neighborhood. I attended many Saguaro Friday night games, even before I was in high school, so I knew the culture. I could not wait to join the Saguaro High School football program. My first year was probably the most exciting year. It was a new environment, tougher competition, and one step closer for me playing at the next level. I realized quickly what Saguaro culture was all about. As a freshman, I had to play scout against some of the top players in the state/nation (Byron Murphy who was a senior at the time and then-junior KJ Jarrell). Playing scout against these top players made me a better player. Our head coach Jason Mohns would always mention about playing for the people that came before you and ahead of you. I always took this to heart as Saguaro plays for something bigger than themselves.
Good kids, awesome athletes. pic.twitter.com/c08WxaDbk2

— BryHard (@bryanhardy571) January 19, 2019
Not long after my freshman year I started getting recruited from colleges. In the spring of my sophomore year I got my first few offers. I was thrilled and excited but knew that I had to stay focused in order to have a strong high school football career. I did a lot of offseason training and lifting to get me where I needed to be. Having won three state championships by the end of my junior year I knew it was my time to keep the tradition going for my senior year. I wanted to leave the same legacy that the players ahead of me left, as well as leave one for the underclassmen to come.
I became a team captain by my senior year. Being one of our captains taught me leadership skills. I had a great senior year. I am grateful that I played with such a talented team. I finished my senior year winning that fourth-straight championship!
100% Committed to the Bolt Brotherhood!⚡️⚡️ pic.twitter.com/BDJh5nqY9p

— Nate Polk (@nathan_polk26) January 16, 2019
I received my Air Force Academy offer the spring of my junior year. My brother Ray explained what a military service academy was, and shared what an honor it was to attend. I waited until my season ended and decided to take my official visit. After the weekend and meeting other recruits, I knew it was the college I wanted to attend. I realized moving forward football will only be one part of my life. I will not only be playing D-1 football but I will be serving my country, like my brother and Grandfather who retired from the Army. So on January 15th 2019 I committed to The Air Force Academy. It was definitely the toughest decision I had to make in my life yet, but I know now that it is the best one to make.I believe by attending the Air Force Academy it will make me become stronger, smarter, and a more focused individual.
I can clearly remember my first day of high school, first day of football practice, and my first high school game. Coaches and players at Saguaro have taught me so much during these four years it's insane. I forever will remember these years with my friends and family. God has guided me on this path and I feel he gave me signs to let me know what will become of my future. Everything happens for a reason and this is my calling. I am truly blessed to have the opportunity in attending The United States Air Force Academy to play football and serve my country.