Byron Murphy has a business trip scheduled for later this week in Indianapolis. Like the other 336 participants, the former Saguaro High School and University of Washington star is about take part in likely his biggest "job interview" at the 2019 NFL Combine.
"Since it's getting closer [I'm] kind of more nervous but excited at the same time," Murphy recently said to Sports360AZ.com after one of his daily workouts at EXOS in the north Valley. "I've been wanting to do this my whole life. I've been watching The Combine the last couple of years."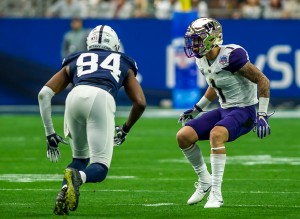 — Byron Murphy JR (@byronmurphy) January 7, 2019
For now, he knows he still has plenty to prove inside the Lucas Oil Stadium, including a bigger, faster version of the player he was last fall in Seattle.
"I gained about 14 pounds since I've been here in Arizona training at EXOS," Murphy explained. "The second thing is my speed. Making sure I'm coming in and taking everything serious."
Murphy earned All-Pac-12 first-team honors, as well second-team Associated Press All-American accolades as a redshirt sophomore last fall.