TUCSON — Like at most schools, word tends to spread quickly around the halls of Salpointe Catholic High School. It seemed over the past couple of months each week a big name college coach or two would visit the school to check out Lancer stars Bijan Robinson, Lathan Ransom, Jonah Miller or maybe rising prospect Bruno Fina.
"You get called out of lunch or out of class and then you come back," Fina said with a smile to Sports360AZ.com. "They go, 'Where'd you get called out to? Who did you meet?' Then you say, 'Coach Brian Kelly was here and they're like, what?!"
The laundry list of Power Five schools include not only Notre Dame but Michigan, Ohio State, Texas, USC, Washington, Texas A&M, UCLA, Tennessee, Arizona State and of course Arizona– located just five minutes south of Salpointe and several others.
??Tennessee, Indiana, UA, ASU, Ohio State, Michigan, Brown, Lake Forest, Wabash, LSU, USC, Washington, Oregon St., Idaho, Nortwestern, Texas A&M, Notre Dame, Texas & UCLA for visiting Salpointe Catholic ?thank u!

— Dennis Bene (@LancerFBcoach) January 18, 2019
While Salpointe has produced some outstanding players, most recently names like Cameron Denson, Kris O'Dowd and current University of Washington offensive lineman Matteo Mele, never before has SCHS had such a high volume of elite college players at one time.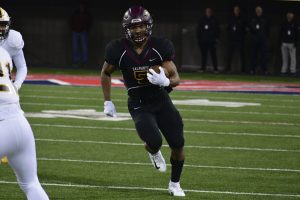 — Lathan Ransom (@L8thanRansom) January 24, 2019
"My family and coaches are doing a great job of keeping me focused on school and football," Ransom explained to Sports360AZ.com. "Not really getting my head too big or anything like that. I've enjoyed the process a lot."