I hope each and every one of you enjoyed the ride which was the 2018 Arizona high school football season. In the end the cream rose to the top once again with Saguaro (six-peat), Centennial (repeat) and Chandler (three-peat) raising trophies last weekend.
I'm going to start this week's "Zone Read" with a few general takeaways from the past four months.
Who's Who
Casteel: Maybe no team impressed me more this season than the Colts. Sure, they were completely overmatched in Zero Week by Centennial (honestly, who wasn't??) but making the two division jump to 5A and finishing 9-3 with an, at the time, interim head coach in Bobby Newcombe was outstanding. Washington State commit Gunner Cruz was simply brilliant and Zach Nelson was the most complete wide receiver I saw in person this fall. There will be a large overhaul in talent next season with several key players graduating but the program is in excellent hands under Newcombe.
Marcus Libman: My good friend Ralph Amsden nailed this last summer, tabbing the Pinnacle wide receiver as a 2018 breakout star. All the junior two-sport athlete did was haul in 72 passes for 1354 yards and 15 touchdowns. With steady seniors Kaleb Covington and Quinton Powell moving on, Libman will see far more attention from defensive coordinators next fall. Regardless, with J.D. Johnson returning at quarterback, as well as skill players Matt Goodlow, Kenji Roland and Shane Sunday the cupboard is far from empty for Dana Zupke.
Christian Foote: Maybe the best player you've never heard of. The Williams Field senior defensive end finished with a state-leading, jaw-dropping 22.5 sacks in 2018. The 6-foot-2, 185-pounder also had 24 tackles-for-loss, 53 quarterback hurries and two forced fumbles. Talk about a worthy Foote-note. Sorry…just couldn't resist.
Highland: Don't want to say they were underappreciated but never seemed to get mentioned among the "who's who" in 6A as evidenced by their 5-seed entering the playoffs. Regardless, Brock Farrel's team went 11-2 and pushed Chandler to the brink in the semi-finals, falling 36-35 on a last-second two-point conversion. Outside of a late-September home loss to Mountain Pointe, the Hawks were really never tested in the regular season. Their 226 points allowed were the fewest by any team in the Central section.
Bijan Robinson: Sure, by now you've all heard of him but consider the fact the Salpointe Catholic junior led the state in rushing (2400 yards) and he did it on just 170 attempts. It averages out to just over 12 carries a game. He also rushed for 35 touchdowns, essentially finding the end zone once every five totes. That's just stupid.
Roll Tide…Into Arizona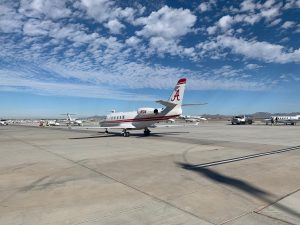 — Higley Football (@HIGLEYFOOTBALL) December 5, 2018
"Coach Saban was awesome," Higley head coach Eddy Zubey told the "Zone Read." "He was very nice and welcomed all the pics that everyone wanted. I got to sit in on his talk to Ty and he explained to Ty what their plans were for [him] and how he fits in their system."
Robinson will be selecting his college on December 19th.
Coyote Howl
It's rare for a team to go undefeated and even more so to do it without ever being tested.
Unless, of course, you're the 2018 Centennial Coyotes who allowed just 85 total points in their 14 wins and a measly 16 in section play. Quick math with the help of my iPhone tells me Richard and Andrew Taylor's sound squad gave up an average of just 6.07 points per contest.
One defensive standout who played his best game under the brightest lights last weekend at Sun Devil Stadium was junior cornerback/wide receiver/specialist Eric Haney.
Eric Haney with his third interception of the second half, and Centennial's backups will try to see if they can get the Coyotes to 60. pic.twitter.com/R31QbbpVv4

— ArizonaVarsity.com ???? (@AZHSFB) December 1, 2018
"Eric Haney had a great championship game with three interceptions," head coach Richard Taylor said to the "Zone Read." "He was also on most of the special teams. He played a major role in the victory."
One of Haney's interceptions (the Coyotes has five against Notre Dame Prep's Jake Farrell) was returned for a touchdown.
Moving Up, Moving Down
One of the hotter topics other than recruiting this time of year is always re-alignment.
Of course, we as high football fans would love to see the upper division heavyweights, regardless of classification (IE: 4A Saguaro vs. 5A Centennial) play each other more often but just how feasible is that?
It's also evident on the other side of the coin as some bigger, more traditional past powers have struggled finding their footing in a higher division.
"There are probably eight or nine schools that do need to compete at a higher level," AIA Executive Director David Hines told the #FridayNight360AZ Preview Show Wednesday morning. "And there are probably 10 or 11 schools that need to move down."
Hines said a number of schools who moved up (Queen Creek, Chaparral, Casteel) more than held their own against some of the big-school heavyweights in 2018. The intention of moving teams up isn't to punish them but provide more competitive games during the regular season and, essentially, make teams more post-season ready.
"We are going to collect data all the way through next football season," he explained. "All of this information makes it most accurate when we start the new tier."
Stay tuned.
Fresh Faces, New Places
As many schools starting winding down their winter quarters it will be interesting to see which players show up on new campuses when schools reconvene next month. Here's a safe bet: the rich will get richer. It happens every year.