Football players have personality. Sport360AZ was there to capture a few glimpses of that this year.
In its third year, we present the Best High School Football Celebration GIF Award field. 16 GIFs from 16 teams. It's a bunch of celebration, a bunch of personality, and that fun is one of the reasons we all love high school football so much.
Before we look at the field, let's revisit our past winners:
2015 – Bozton Sanders – Centennial
OK….so this GIF actually sparked the idea of this award. Sanders never actually had to beat any other nominees for it, but being creating the inspiration for this whole dang thing means he wins the honors for 2015.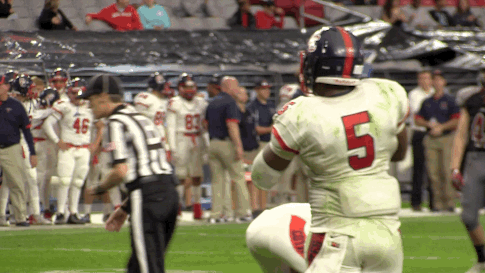 2016 – T.J. Green – Chandler – "The State Championship Shuffle"
Green capped off a 2,000 yard senior season with a state championship ring. He only wanted one dance partner that night, and that was the 6A title trophy.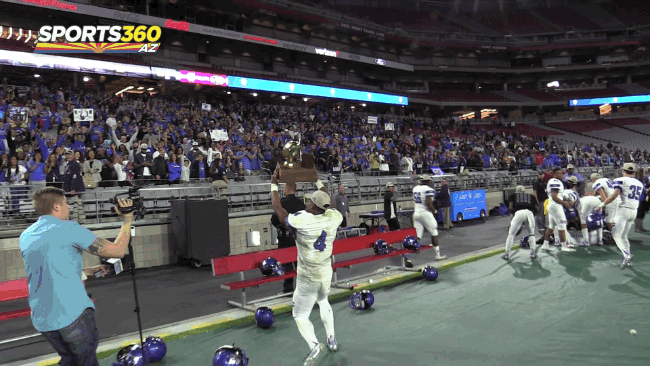 2017 – Brock Purdy – Perry – "Are You Not Entertained???"
Purdy wasn't known for showing too much emotion, good or bad, while on the field, something we continue to see as he tears up the Big-12 at Iowa State. But the 2017 state title game brought something out of him. After rushing for the game's opening touchdown, he ended the night with six scores, the Perry quarterback ran to the Puma student section to show them some love too.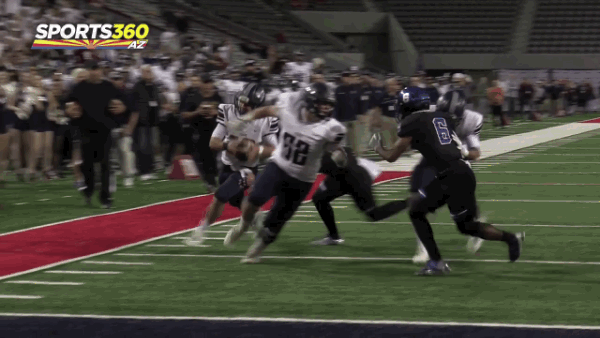 OK…so here we go, 16 teams are represented, and the groupings were determined at random.
Group 1:
Queen Creek – "Postgame Jump-around"
The Bulldogs capped off a late comeback against Mountain Pointe to give them their first marquee 6A win. It was a team effort and a team celebration.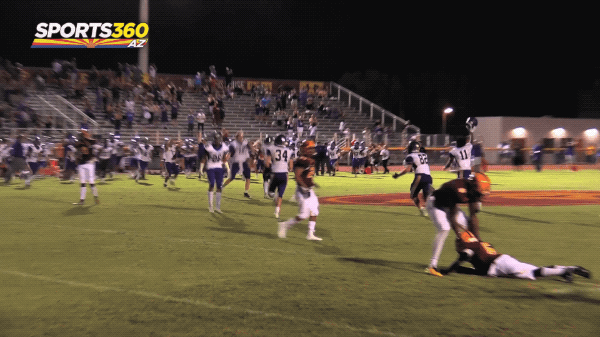 Mountain Pointe – "HOLD ME BACK"
The Pride had some players that were eager to take the field, and one that even took a spill in the process. They recovered nicely to hit the field in style.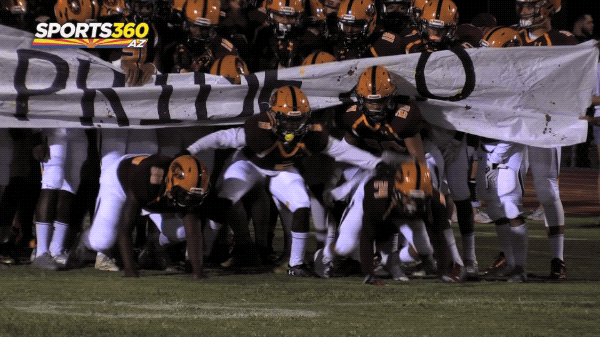 Stone Aguiree – Ironwood – "LET'S HIT SOMETHING"
The Ironwood captain notched a sack against Cactus and needed to channel his celebration rage with a couple hits to the head and a battle cry. Good thing he was wearing a helmet.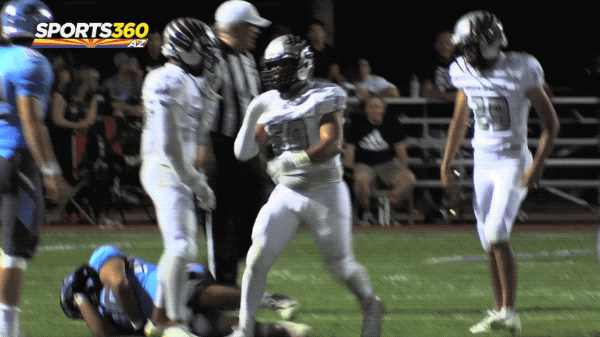 Nash Giffin and Trevor Roberts – Horizon – "Friendly Fire"
Giffin, the Huskies' leading tackler the past three years, made a big sack and Roberts was a little too enthusiastic in his celebration, running into Giffin post-play. Thankfully, Giffin kept his footing to give his defense a round of applause.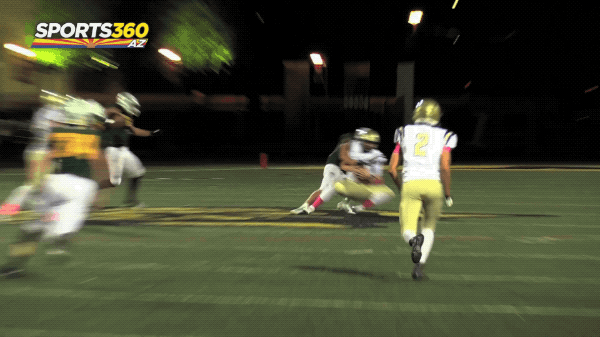 Group 2:
Israel Benjamin – Saguaro – "State Championship High-Step"
The Saguaro running back made a statement in his first year as the Sabercats' featured runner with 1,675 yards and 27 touchdowns. Even more impressive than his rushing average is his grade point average, which is like wayyyyy above a 4.0. He took some time marching his way into the end zone in the 4A state game as the Sabercats won their sixth (!!!) straight state title.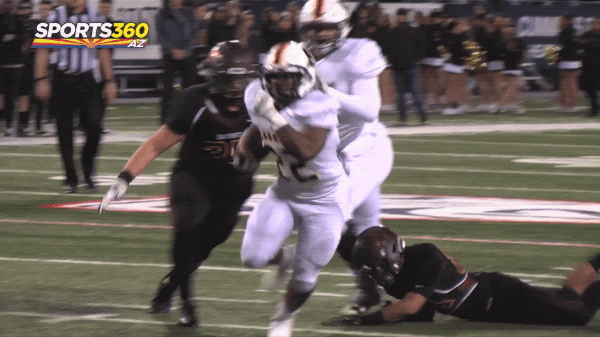 Marcus Libman – Pinnacle – "Look, Ma. Two Hands"
Wide receiver Marcus Libman is quite a good receiver. The junior set the school record for most receiving yards in a season. Playing receiver at a high level requires being comfortable. How comfortable was Libman? After catching a perfect pass delivered from JD Johnson, he points to the sky about .01 seconds after making the catch in the end zone. I have a feeling we may see more GIFs from this duo next year.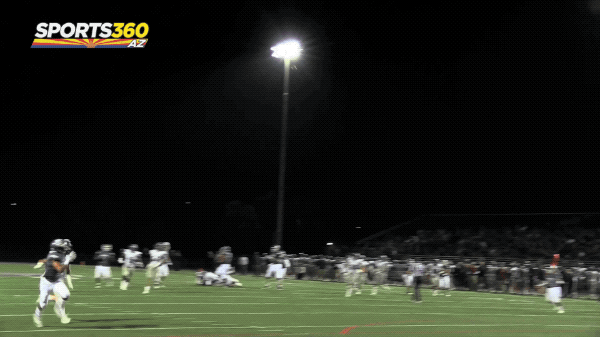 Brophy – "Consistency Breeds Success"
Good teams are consistent and in-sync. This celebration by the Broncos was exactly that when the defense was almost fully synchronized when they recovered a fumble. No wonder the team made the playoffs in their first season under Jon Kitna.
Ty Robinson & Truitt Robinson – Higley – "Brothers Gotta Hug"
Many know Higley defensive lineman and All-American Ty Robinson. But in this GIF, he was giving some love to younger brother Truitt who, oh I don't know, took 73-yard reception in for a touchdown to earn a playoff win. There's so much brotherly love in this that I may need to call Joey Lawrence.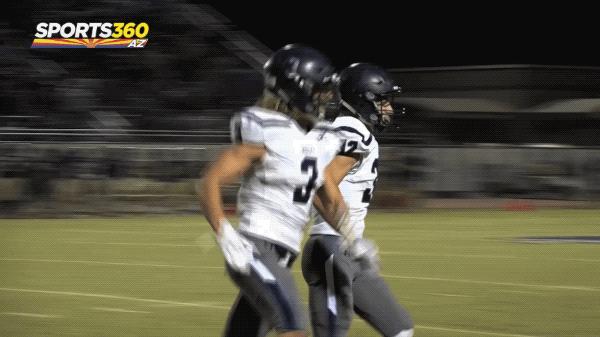 Group 3:
Lathan Ransom – Salpointe Catholic – "Giddy on the Gridiron"
Salpointe Catholic is uber-talented and has a ton of fun playing football. Leading the charge on defense is Lathan Ransom, who seems to be fueled by delivering big hits. He can't contain himself after a Lancer group tackle.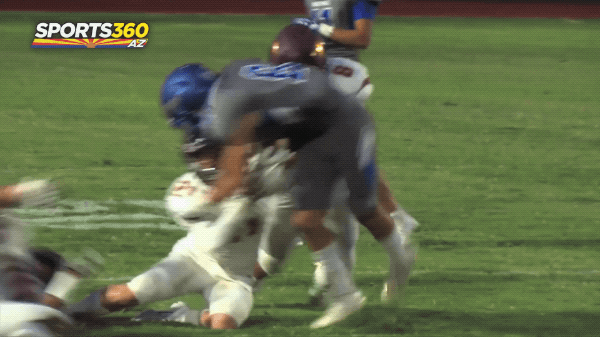 Jack Miller – Chaparral – "O-H…."
Jack Miller and Darvon Hubbard were not only Chaparral teammates but also Ohio State commits. Hubbard has since transferred from Chaptown, but I have a feeling Miller will continue to photobomb his future teammate with "O-H" whenever he can.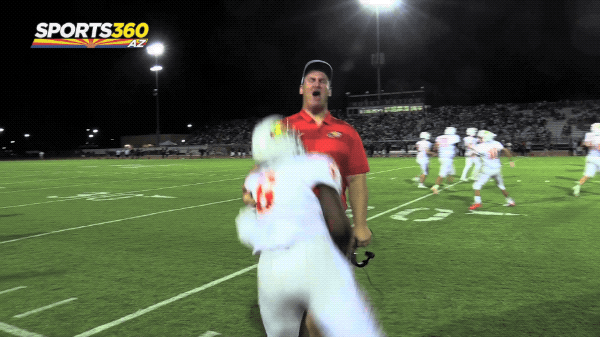 Paxton Earl – Arcadia – "Skip to my Lou"
Arcadia was one of the best turnaround teams this season. After two wins combined in 2016 & 2017, the Titans bounced back with a six-win season. Helping lead the charge was Paxton Earl, who tallied 17 touchdowns as a junior and skipped his way to a score in this GIF.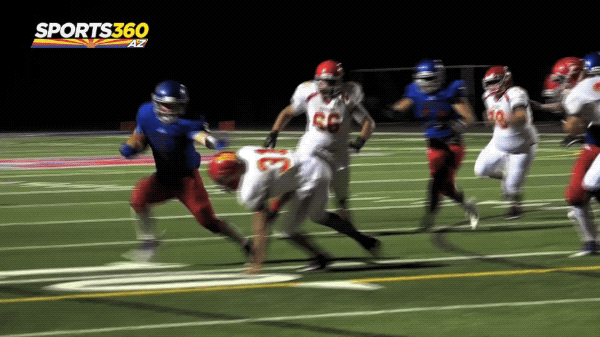 Casteel – "STAMPEDE!!"
There were a lot of questions entering this season for Casteel. Could they hang with 5A schools after winning the state title in 3A in 2017? Question answered. After a 9-3 season and 4-seed in 5A, the Colts belong in the division and have built themselves up from an idea a few years ago to a consistent big school contender. They kicked off this game with a sway and a stampede.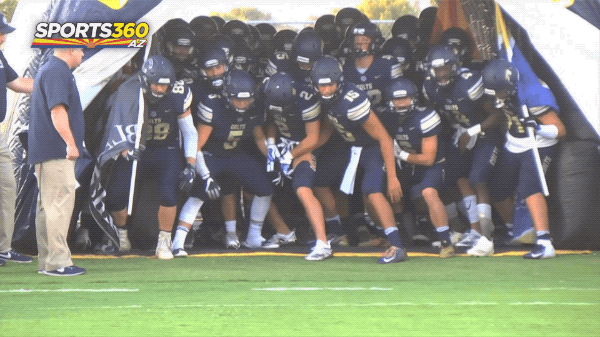 Group 4:
Jake Smith – Notre Dame Prep – "BEEE-YAAHHHHHH"
It was a tale of two halves for Notre Dame Prep against Horizon. After struggling in the first half, Notre Dame Prep was fueled by five Jake Smith touchdowns and three turnovers forced by the defense. After the Saints recovered a fumble that sealed the game, Smith gave a five-star fist-pump.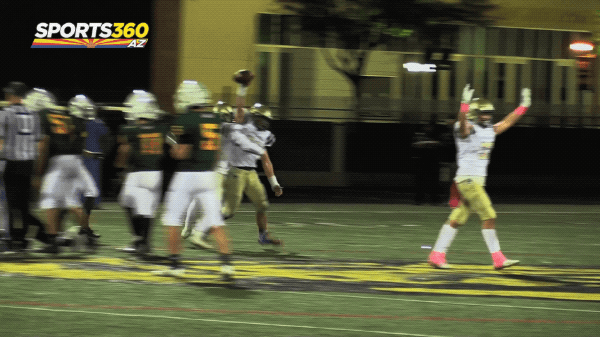 Jacob Conover – Chandler – "The Wolf Howl"
Chandler quarterback Jacob Conover, like 2017 GIF winner Brock Purdy, usually keeps a calm demeanor on the field and is constantly poised and collected. But in this year's 6A state championship game, the three-time state champion had to let out some fire after a touchdown run that helped the Wolves claim their fourth state title in five years.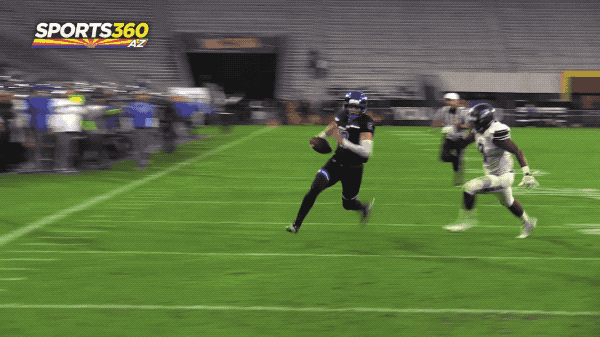 Travis Calloway – Perry – "The Game Starts….NOW"
There are plenty of ways teams take the field in high school football, but this was certainly one of the more creative ways this season. Perry safety Travis Calloway helped set the tone for the Puma defense all year and did the same as the his team took the field in the 6A state title game.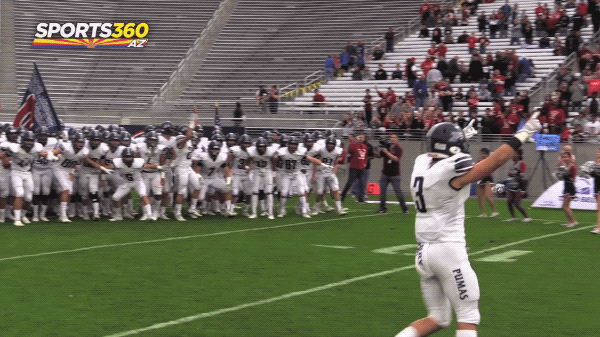 Jaydin Young – Centennial – "Running Away through 5A"
Jaydin Young and the Coyotes had plenty to celebrate in 2018: another state title and undefeated seson, giving up less than 100 points ALL year and a GEICO Bowl appearance. It seems as though Centennial had plenty of chances to practice their celebrations, and I'm sure they'll bring their A-game in their bowl game.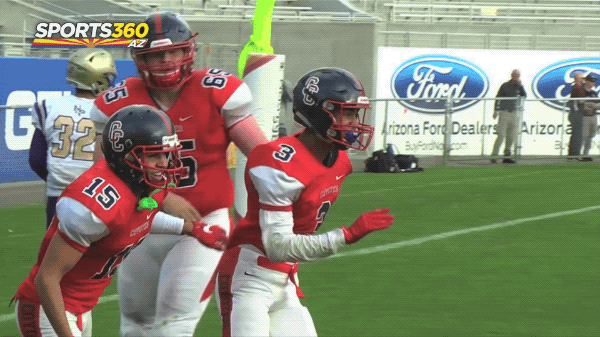 Those are the 16. Make sure to rock the vote for the best celebration GIF from 2018. Below are the tweets with the groupings. Once voting has completed, the final four will be revealed and voted on.
Who had the best celebration GIF from Group 1? –

VOTE FOR EACH GROUP – https://t.co/j2TgWTP7fS #FridayNight360AZ

— Sports360AZ (@Sports360AZ) December 12, 2018
Who had the best celebration GIF from Group 2? –

VOTE FOR FIELD OF 16 – https://t.co/j2TgWTP7fS #FridayNight360AZ

— Sports360AZ (@Sports360AZ) December 12, 2018
Who had the best celebration GIF from Group 3? –

VOTE FOR FIELD OF 16 – https://t.co/j2TgWTP7fS #FridayNight360AZ

— Sports360AZ (@Sports360AZ) December 12, 2018
Who had the best celebration GIF from Group 4? –

VOTE FOR FIELD OF 16 – https://t.co/j2TgWTP7fS #FridayNight360AZ

— Sports360AZ (@Sports360AZ) December 12, 2018