It would have been easy for Coleman Owen to be down on himself. Preparing for his first varsity season now nearly two years ago, the then-junior wide receiver was given the bad news: a broken clavicle in spring football would require surgery and end his season before it even started.
"It was tough," Owen said to Sports360AZ.com. "I was really looking forward to that junior year. We had a lot of good guys [returning] and I knew we were going to get far that year."
Good things come to those who wait.
Fast forward to this fall and the 5-foot-11, 175-pound senior more than made up for lost time, reeling in a jaw-dropping 99 passes for 1538 yards and 22 touchdowns. He averaged close to 120 receiving yards a game for the Knights, who advanced to the state semi-finals, despite moving up in classification from 4A to 5A.
After surgery in summer 2017 for a torn labrum followed by a 6 month rehab; @HIGLEYFOOTBALL WR @Colemanowen_ made the most of his 2018 breaking (3) 5A records:

99 Receptions
22 Receiving TD's
1535 Receiving Yards

He was also 1st Team All-State in Lacrosse leading AZ in PPG pic.twitter.com/LyMJPiLQSg

— Brady (@Focuzed7) November 21, 2018
"Kids gravitate to him," head coach Eddy Zubey said to Sports360AZ.com. "Coleman was elite as a freshman and sophomore on the freshman and [junior varsity teams]. He's the kind you want to be around."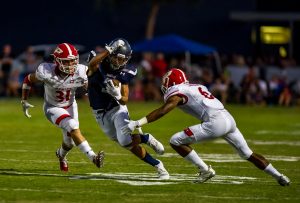 — Andy Silvas Photo (@PhotoSilvas) November 19, 2018
The bad news is Owen only has one season of varsity experience and tape.
The good news the experience and tape has already helped Owen land a few college offers but he's hoping, much like his senior season, the best is yet to come.
"[They like] the fact that he can make people miss and he's a dynamic returner," Zubey said of some some the bigger schools who are showing interest. "He adds value to himself in that aspect of it. I look forward after the December 19 signing day for him to get picked up. I personally think he's a Mountain West-type wide receiver."
Considering what Owen has already gone through, who are we to think otherwise.