The 2018 Arizona high school football season was filled with many different subplots and storylines. Now it's time to separate the contenders from the pretenders.
The playoffs start Friday so let's jump right into this week's 'Zone Read' with a few things which caught my eye leading up to post-season #FridayNight360AZ.
Salpointe vs Saguaro: Tale of the Tape
If history repeats itself, the 4A top-seeded Salpointe Lancers and five-time defending state champion Saguaro Sabercats are on a collision course for a late November date for the gold ball in Tucson.
The third-seeded Desert Edge Scorpions played both schools this fall during the regular season and Edge head coach Jose Lucero was kind enough to give the 'Zone Read' his thoughts on the two long-time powers.
**Similarities:
"Both teams are very well-coached and the kids play with great technique in a sound scheme," Lucero said. "Defensively they are both stout up front and possess the ability to play man coverage with their athletes on the edge. Offensively, both teams have the ability to score on any play."
**Differences:
"Main difference comes with how they go about things on offense," Lucero explained. "Saguaro has the ability to spread the ball around quite a bit and runs more of a wide open attack. Salpointe has great athletes and will spread you out at times but their main man is [running back] Bijan Robinson. Their biggest strength is lining up and letting their offensive line open holes for Robison."
Future Falcon In Flight
Sunrise Mountain quarterback Keegan Freid got the ultimate compliment Tuesday night at our west Valley event at Valle Luna. Shortly after arriving, Centennial head coach Richard Taylor approached the 6-foot-3 dual-threat and explained how the Coyotes' entire defensive game plan last week was focused on slowing Freid down and keeping him in the pocket.
Taylor told him he was "a fantastic player." High praise from a coach who certainly knows how to judge talent.
Freid with a spectacular run for a TD in the 3rd. Xtra pt is good. Mustangs lead 36-17. #smhsfootball pic.twitter.com/kBUa1RNhSc

— Sunrise Mountain (@SunriseMustangs) September 29, 2018
Freid, who runs a 4.6 40-yard dash and is committed to play wide receiver at Air Force, has had an incredible regular season for the young Mustangs tallying over 3,000 total yards and 41 touchdowns.
Forget the gaudy stats, this young man has his priorities in line.
Congrats, Keegan.
Patience Is A Virtue
Queen Creek quarterback Devin Larsen's incredible career was cut short a few weeks ago but maybe the best is yet to come.
An incredible high school football career comes to a close as @devin_larsen12 is out for the season. An even better young man than he is a player. Looking forward to his comeback. Whoever gives him that opportunity won't be sorry.

— ArizonaVarsity.com ???? (@AZHSFB) October 20, 2018
Larsen, a respectful, soft-spoken leader has never been one to self-promote and I, for one, respect him greatly for that. A three-year starter on one of the most consistent teams in the state, the 6-foot-5, 215-pounder has only an offer from Idaho.
Don't be totally surprised if the same Power Five school who came in late and swooped up another under-recruited in-state quarterback doubles down on their Arizona investments at that position.
The next couple months could be Cyclone season again in the southeast Valley.
D-1 Dreams
Few players in the west Valley were consistently dominant as Verrado defensive end Jonathon Parks the past two seasons. The 6-foot-4, 230-pounder tallied 21.5 tackles-for-loss and 16.5 sacks for the Vipers. He also runs a 4.75 40 and squats 475 pounds.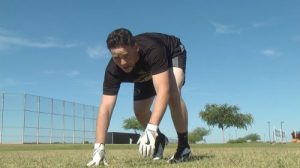 The 4A Grand Canyon Region pulled off the trifecta sending three teams (Prescott, Mingus, Bradshaw Mountain) to the playoffs.
The Marauders may have gotten the short end of the stick. Winners of five-straight, section champion Mingus will again travel over the mountain from the Verde Valley into Prescott Valley to take on Bradshaw-a team they already beat 28-6 last month.
#MingusUnion won the Grand Canyon Region for the second year in a row and won the section or region for the third time in four years #MINGvsPRES #azhs pic.twitter.com/azI84CSMlE

— Verde Sports (@verdesports) October 27, 2018
I get Bradshaw had more power points but something tells me the guests are primed for a repeat performance from the regular season.
The Badgers and their run-heavy offense could push sixth-seeded Greenway if they can control the ball and shorten the game. Make sure you follow our own Jason Jewell (@jason247scout) on Twitter for updates from that one.
Here's a quick look at where the rest of the staff will be Friday night.
Haley (@HaleySports360) – Sunnyslope at Centennial, Seton Catholic at Peoria
Kennedy (@Kennedyy16) – Westview at Liberty, Campo Verde at Sunrise Mountain
Brad (@bradcesmat) – Horizon at Casteel
Jordan (@JordyHamm) – Boulder Creek at Chandler
Myself (@EricSports360AZ) – Chaparral at Desert Vista, Brophy at Mountain Pointe