By Kennedy Wilkerson
You can't script the Purdy family's fall of 2018.
Three kids, three different states.
Shawn and Carrie Purdy's youngest, Chubba, is the Perry Pumas starting quarterback preparing for their 6A State Championship matchup against neighboring Chandler Saturday night at Sun Devil Stadium. A junior, Chubba leads the 6A division in almost every statistical category tallying over 4,000 all-purpose yards with 215 completions, 35 going for touchdowns.
He took over for older brother Brock, who previously commanded the Pumas' offense the last three years.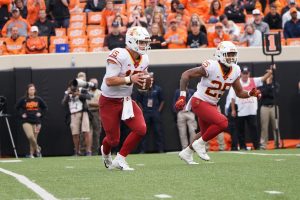 Brock now plays for Iowa State and has led the Cyclones to a 6-1 record since taking over the starting position this fall. His 15 passing touchdowns set an Iowa State school record for true freshmen.
The Purdy's oldest, daughter Whitney, is also a competitive student-athlete who plays softball in Lakeland, Florida at Southeastern University.
As the parents of three incredibly talented children, they knew what they signed up for.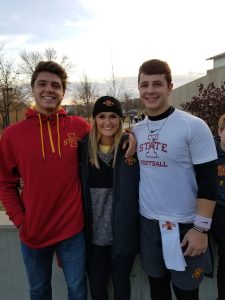 "Ever since they were little we knew that this is what they wanted to do and we wanted to do anything we could to be a part of it," Shawn Purdy said to Sports360AZ.com. "We are just so proud of all three of them."
For the last month and a half, Shawn and Carrie Purdy spent their Friday nights rooting for Chubba at nearby Perry. The next morning, they'd often find themselves on an plane, traveling to cheer on Brock at various places in and around the Big 12 Conference.
"As crazy as it looks, it is just another day for us," Shawn said.
Originally the Purdy's understood Brock would likely redshirt. At the time they'd be content watching games on TV and seeing him on the sideline.
"When he started playing, everything changed really fast," Carrie Purdy explained to Sports360AZ.com. "We now do our best to make the games we can."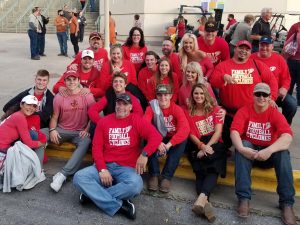 When they cannot make it to Iowa, the Purdy's host family and friends to support Brock and the Cyclones from the comfort of their own home in Gilbert. They know when they cannot make the 1,500-mile trek, their son is still surrounded by many supporters.
"We have met the nicest families at Iowa State," Carrie said. "The love and support for our son there is overwhelming. Shawn and I cried for two months because the response was so nice."
The Purdy kids are each other's biggest supporters.
Whitney travels frequently from Florida to support her brothers, and although he is in a season of his own, Chubba has made two trips to watch his brother perform on the collegiate stage. The most recent being Thanksgiving weekend.
"Brock live-streams Chubba's games every Friday night," Carrie said. "It means everything to him to see his little brother lead Perry. He is so proud of Chubba."
Even though Brock and the Cyclones take on Drake in their last home game of the season, this Saturday will be all about Chubba — following in his brother's footsteps.
"It is almost sad that our crazy fall is winding down," Carrie said. "But we are so excited for Chubba's championship game this weekend and we are looking forward to being all together supporting Brock in his upcoming bowl game."
The Purdy's could not have predicted how their fall would play out but they are so grateful they have the opportunity to travel to show their pride and support of all three children.