Three years ago today, ASU football received a commitment that brought in arguably the best in-state tandem in the school's history.
Then-Chandler running back Chase Lucas took the stage on Chandler High School's campus, dressed in his bright yellow U.S. Army All-American jersey, and began thanking those closest to him. He mentioned how he will miss the Chandler community, but there are plenty of means of transportation to watch him play his college ball.
"Thankfully from Chandler, it's only 13.5 miles away from Sun Devil Stadium," Lucas said, donning a maroon ASU hat.
"And I'm proud to say I will be following N'Keal Harry."
Elite Recruit Lucas Joins Teammate Harry And Pledges To ASU
Harry, a four-star wide receiver and best friend of Lucas, had committed seven days earlier to the Sun Devils, meaning the two of them could continue playing together after their senior season with the Wolves.
The childhood friends had accomplished a lot together at Chandler. In addition to Lucas' Army All-American nod, Harry was heading to the Under Armour All-American Game that upcoming January and would be coached by his future coach Herm Edwards.
They helped turn the tide of the Chandler – Hamilton rivalry, starting a run where Chandler would win every matchup since November 25th, 2013. They also helped bring in the school's first state championship to Chandler since 1949 against, you guessed it, the Hamilton Huskies.
They were also two of the most sought-after college recruits in the state, and Harry was ready to make his decision on November 2nd, 2015.
"I was at a very good place in my life," Harry said. "I feel like I was seeing things very clearly. At that point in my life, I just felt like the best decision for was to stay at home, let my grandmother come to my games and have support from a lot of the people I grew up with."
These were days the two friends had talked about growing up. They, along with Saguaro defensive back Byron Murphy, who eventually committed to Washington, talked all the time about being a package deal for a college and helping each other get to the NFL.
But despite being best friends, the two kept their decisions pretty close to their respective vests. Harry said he had a good feeling once he committed that Lucas would join him. But Lucas said he had his mind all but made up roughly two months before on an unofficial visit.
@Chase_Lucas2 throw dem forks up cuzzo?? #StayTrue

— Keal (@NkealHarry15) November 3, 2015
"One day, I came up here, I talked to Coach Graham, and I was like, 'Yeah, this is going to be the place for me.'"
Not only did these commitments give ASU two big "booms" in one week, but it helped bring a whole level of attention to the corner of Chandler Boulevard and Arizona Avenue.
"The was a heck of a week for us because that was the first time from the national exposure side that everybody was here and waiting for their commitments," Chandler head football coach Shaun Aguano said. "Of course I knew, but a lot of people didn't know…When N'Keal committed and then Chase after, it was a huge buzz in Arizona."
The buzz was felt those 13.5 miles down the road that Lucas referenced at Sun Devil Stadium as well.
"(There was) a lot of excitement because that they were good football players and good guys, and we were anxious to have them join our team." Current associate head coach and special teams coordinator Shawn Slocum, who was also on the coaching staff at the time, said.
The Sun Devils had achieved half their job with Harry and Lucas; they got them in the program. But, like any recruit, you never truly know how they will adapt to the college game. For Harry, he had instant success, bringing in his first touchdown in the season opener of his true freshman season against NAU.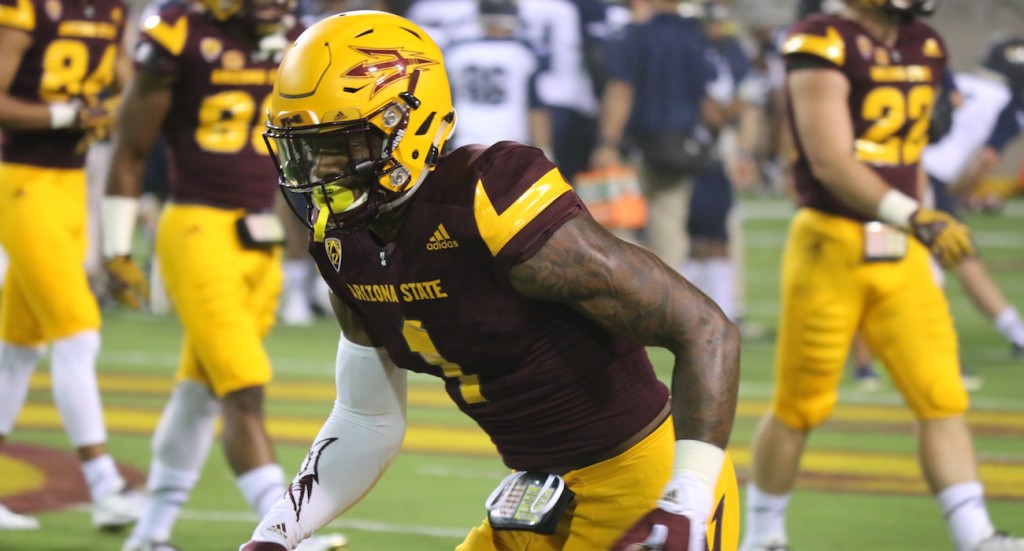 Lucas redshirted his freshman year to bulk up – he was listed at 5-foot-11, 161 pounds his senior year. He's currently listed as 6-foot, 175 pounds – and to transition from running back to cornerback.
Fast forward nearly three full seasons, Harry has 26 total career touchdowns and accumulated 2,629 receiving yards on 195 catches, making the Sun Devil faithful swoon every time he changes direction on a screen pass for a big gain.
Lucas has brought a bulldog mentality to a secondary that isn't that far removed from being one of the worst in college football. He is a vocal leader to his teammates and a vocal agitator to his opponents. While he doesn't mind sharing his thoughts, his play has helped the Sun Devils improve a pass defense that is currently ranked 55th in the country and is fifth-best in the conference.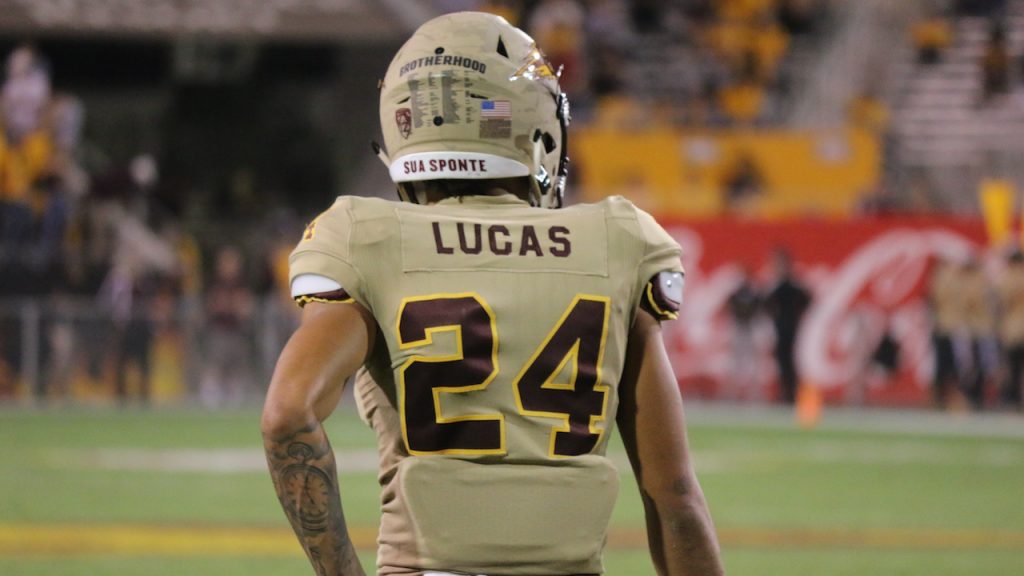 "They're growing from young men to men, I think they've grown on the football field too," Aguano said. "N'Keal is a man amongst boys there, and Chase has become a top defender in the country. They have a lot of work to do, and as long as they take care of their classroom and making sure they are doing the right things in society, I think they'll both be very successful at the next level."
They may also have had an impact on the in-state recruiting scene as well. After Harry and Lucas headlined the 2016 class, nine in-state recruits committed to the Sun Devils in 2017 including current contributors Tyler Johnson, Kyle Soelle and Brandon Ruiz as well as three-star Saguaro safety K.J. Jarrell.
Lucas knows his time with Harry in Tempe could be coming to an end sooner rather than later. Harry has been consistently slated as a first round draft pick in NFL mock drafts and could declare early for the NFL. While the receiver has said he hasn't made his mind up about the future, Saturday's afternoon bout against UCLA could be his last game in Sun Devil Stadium.
"With everyone saying this might be his last home game, it kind of sticks with me a little bit," Lucas said. "Me and him have been teammates, have played together for 10-plus years…My boy is on to something different."
But these moments – commitment dates, game-changing performances and the NFL Draft – whenever that may be – are life events the two friends talked about constantly before they even stepped foot on Chandler High School, let alone Sun Devil Stadium.
"I know when we were kids, me and N'Keal talked about going to the league, being professional football players, always having a lot of money and stuff," Lucas said. "Seeing how everything played out, and seeing #1 is a walking legend, and I'm trying to earn my stripes like that, I'm baffled."
With the same enthusiasm for his best friend the day they pledged to become college teammates, Lucas walked to the ASU locker room nearly three years removed from his commitment date, yelling, "I got to go hug N'Keal!"