They say it's not what you know but who you know.
Well, in the case of Steven Larson it was a combination of both.
Earlier in the school year Larson was named the new head golf coach at Combs High School. One of his initial tasks was encouraging players to participate and build the varsity roster. One of those players happened to be senior Rome Foster, who Larson has coached in basketball the past four years.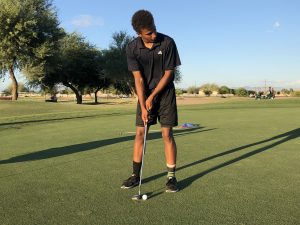 "When I ended up getting the position, I had to hit the recruiting trail," Larson explained with a grin to Sports360AZ.com. "At first he was talking about just being a manager for the team. I was like, 'No Rome, in golf there really aren't managers.' Now that he's come out, he taken to it. He likes it."
The game is a drastic change of pace for Foster, who not only plays hoops (power forward/center) but also runs track (300 and 110 meter hurdles) and has played both volleyball (outside hitter) and a little football for the Coyotes during his prep career.
With that being said, the even-keeled likable senior mentally tries to stay within himself when he's on the links.
"I try to attack it the same, honestly," he said to Sports360AZ.com. "I just give it my best effort and do whatever I can to help our team win. As long as I can get better, that's all I'm looking for."
The early results, despite Foster only swinging the sticks for three months, have been encouraging according to Larson.
"For him going to play golf is a different world for him," he said. "He's gotta be calm, cool and collected."
This player-coach bond is unique in the sense Foster trusted Larson enough to put his own ego aside and pick up a game which is arguably the most difficult for anyone to master, let alone a newcomer with no experience growing up.
"It's helped out tremendously," Foster said. "I've had such a great relationship over the four years we've had together. I'm able to speak my mind to him, tell him what I'm going through. He'll be able to relay through the course and help me out and make sure I'm getting better. He just says relax and have fun. Get a few good practice swings in and you'll be good."
Away from athletics Foster has been quite good. He holds a 3.75 grade-point-average and Tabor College (KS) has expressed interest in him running track, although he is leaning towards taking his Mormon Mission following graduation next spring.
Who knows, maybe one day in the near future he'll swing the sticks and chase the little white pill with the guy who first introduced him to it.
"We joke around about playing a round of golf after a Saturday practice or something," Larson quipped. "I still haven't gotten him to fully commit but I think we have a round or two in us."
If Foster continues to improve, better watch what you wish for Coach.