They rarely make headlines and are frequently the last ones to be recognized. On Friday nights they quietly go about their business enabling the players around them to perform at the highest level.
Meet the Glendale High Cardinals offensive line.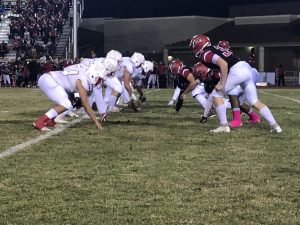 — Sports360AZ (@Sports360AZ) October 27, 2018
Averaging around 6-foot-3 and close to 270 pounds "The Hogs" — as they are sometimes referred to, are not only getting it done between the white lines but more importantly in the classroom, as well.
It's something which hasn't been the most seamless process in the past.
"I'm really hard on them with grades," head coach Rob York said to Sports360AZ.com. "If they have D's and F's, they get a grade check every single day. They've done a good job this year. They haven't really struggled."
Glendale's opposing defenses have certainly struggled trying to find ways to move the big bodies up front.
"As a unit we comes together and execute our game plan," senior guard Marcelo Saenz, who has an offer from Arizona Christian, explained to Sports360AZ.com. "We come together as brothers, as one. The whole family."
Hard work this off-season in the weight room has equaled success this fall on the field but the Cardinals understand, despite their size advantage up front, they must remained focused every single offensive snap.
"It's a big advantage, obviously, being bigger and stronger than the other group," York said. "But at the same time that's not something we really focus on. We just try to teach our kids to go out everyday…and when it's game time, don't think about that kind of stuff."