It's been an interesting first three weeks of the high school football season with storylines across the state. We've also seen the injury bug hit some teams hard in the first month.
Here are some things which grabbed my attention in the first week of September and please remember to use the #FridayNightSports360AZ hashtag all season long on Friday nights.
Embrace The Suck
You could say Millennium is reversing the curse in 2018. Last season the Tigers, who finished 4-6, lost four games by a combined 10 points.
"They've embraced the suck this off-season and they're starting to reap some of the rewards," head coach Lamar Early said to the #FridayNight360AZ Preview Show Wednesday morning. "They pushed themselves all summer. That's been very beneficial…to the success so far."
You could say that.
The Tigers (2-0) beat Maricopa and Tucson Ironwood Ridge by a combined seven points.
Coming home with another "W"! Way to go boys! #ThisIsMILLENNIUM #ALLIN #FearTheROAR pic.twitter.com/56IMLOYaPK

— Millennium Football (@MillenniumFB) September 1, 2018
Next up is neighborhood rival Desert Edge who surely has Millennium's full attention.
Black Hawk Down
Jaden Thompson simply can't catch a break. The Williams Field senior running back has suffered enough injuries for an entire offense over his three-year prep career.
In his second game as a freshman at Queen Creek he tore his ACL ending his season. He missed the end of his sophomore year after dislocating his shoulder.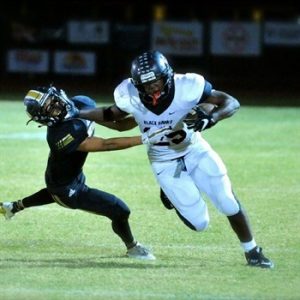 Football can be an unforgiving sport.
No one needs to remind the 0-3 Horizon Huskies who, many would argue, could easily be 3-0 with a couple breaks and bounces along the way. Their three losses (by a combined 27 points) have come to Marana (3-0), Higley (3-0) and rival Pinnacle (3-0).
Sensing a trend here?
"The guys have obviously been battle-tested early," head coach Ty Wisdom said to the 'Zone Read.' "We have played some very good football. We need to get healthy but we have great senior leadership that hasn't wavered."
This team won't quit.. I love this team ! #Grit #class #Huskyway

— Horizon Football (@hzfbfamily) September 1, 2018
Next up is a trip down the 51 to play 0-2 Sunnyslope whose early slate included two tough road trips to Notre Dame Prep and last week to Vail Cienega in southern Arizona.
Safe to say by the end of the season no one is going want to play Horizon in the first round of the playoffs. Despite three-straight road games starting at 'Slope, the Huskies' schedule is far more manageable than the month of August and early September.
Big Things In The Big House
One team I feel has who's completely flown under-the-radar is Casa Grande.
The Cougars are 3-0 and their defense has allowed just 18 points in 12 quarters. It's quite a change considering it's mainly the same group gave up 103 in their first three games of 2017.
3-0 pic.twitter.com/7SXhjmPMxT

— Jake Barro (@CoachBarro) September 1, 2018
"We have a really good group of senior leaders that pushed this team all off-season to work hard," head coach Jake Barro said to the 'Zone Read.' "They keep everyone focused on the goal of going 1-0 each week."
Barro is well aware CG's road ahead has landmines, most notably an early-October match-up with 4A power Tucson Salpointe.
For now coach, enjoy the ride.
No Description Needed
This dropped into my Twitter notifications Wednesday night. Special thanks to @QCbulldogin for sharing this with me.
People ask me all the time why I'm so passionate about high school football…
@MVToro_Football #47 takes it to the house in extra time. Great job young man and class move by both teams! @CountyLinePreps @AZHSFB @gridironarizona @EricSports360AZ. Football gets a bad rap, this is what it's all about! pic.twitter.com/As5muAa39t

— QC Bulldog Insider (@QCbulldogin) September 6, 2018