The Liberty Lions dominated the Leland Chargers on Friday, 56-7. For many, that's where the story ends. Actually, that's where it begins.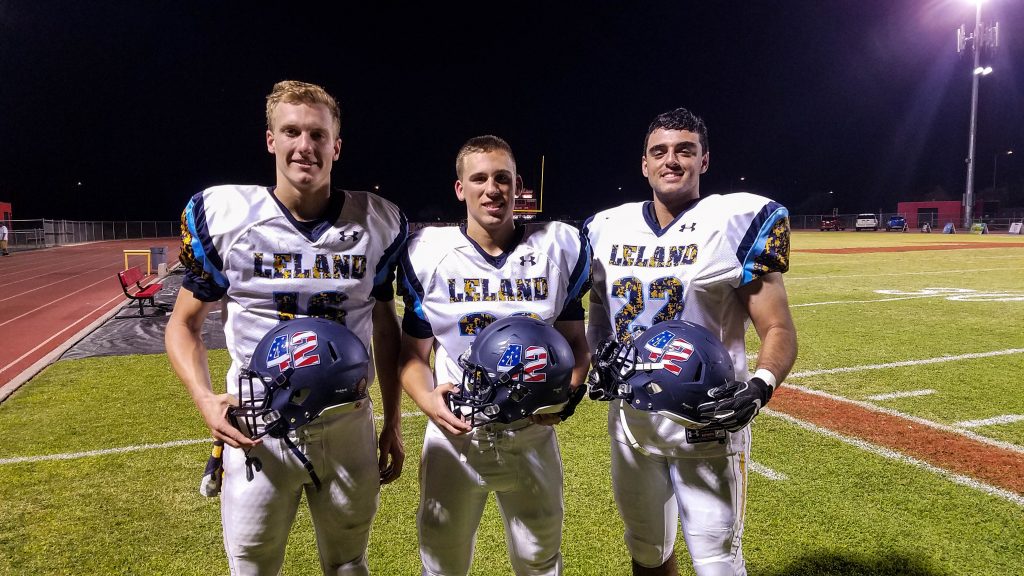 (Carson Yates (JR), Parker Petersen (SR), and Borna Ebadat (SR) honor Leland alumni, Pat Tillman)
"It means a lot to wear his name on our back and go out there with that same passion and ferocity and love for the game that he had," said Leland senior, Parker Peterson. "The turnout wasn't what we wanted, but we're going into the season happy and you just have to play like Tillman did."
Leland senior, Borna Ebadat, who plays alongside his cousin on the team, agrees. "We've had Pat Tillman's teammates talk to us and they always tell us stories about how hard he played and that gives each of us a reason to play harder."
It was obvious this match was important to the Leland athletes who try to honor Pat Tillman every single game.
"Before every Pat Tillman Classic game we have we watch the ESPN documentary on Pat Tillman. We have the '42' sticker on our left side for our hearts," said quarterback, Carson Yates. "We take it seriously and it's a big part of our community."
The team was able to visit Sun Devil Stadium and their Pat Tillman statue on Friday morning. The three players declared in unison, "that was incredible."
Visit to the Pat Tillman Statue pic.twitter.com/56UBfytiyq

— Coach Ward (@BallCoach_MWard) September 14, 2018
The Chargers were also able to honor another Charger football family member by bringing along a special jersey from San Jose. On the visitor bench sat a "55" jersey, the jersey worn by former player, Tristan Nguyen, who tragically passed away during track practice in 2015.
"Pat means a lot to this area and he means a whole lot to us," said Leland coach, Mike Ward. "For us, it's awesome to share that because it's bigger than us and it's bigger than a football game. It's cool to have this experience and to share with them."
"Coach Ward and his whole program has been first class," said Smith. "I know they take the name Pat Tillman very seriously and we were just happy to be a part of this and we could help honor the tradition in Arizona that he left here too."
Next fall, Liberty will become the first Arizona team to play in Pat Tillman Stadium, located at Leland High School.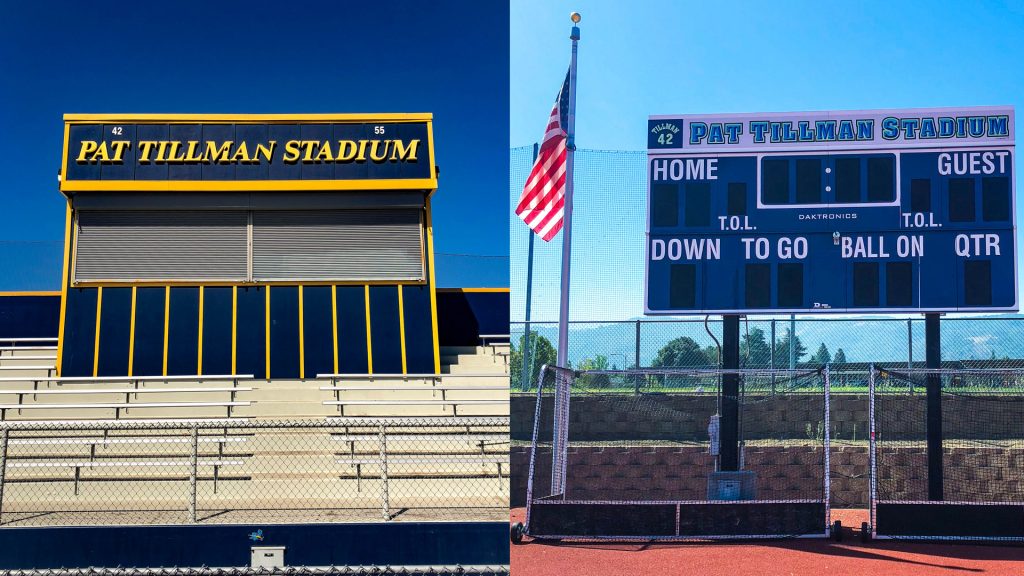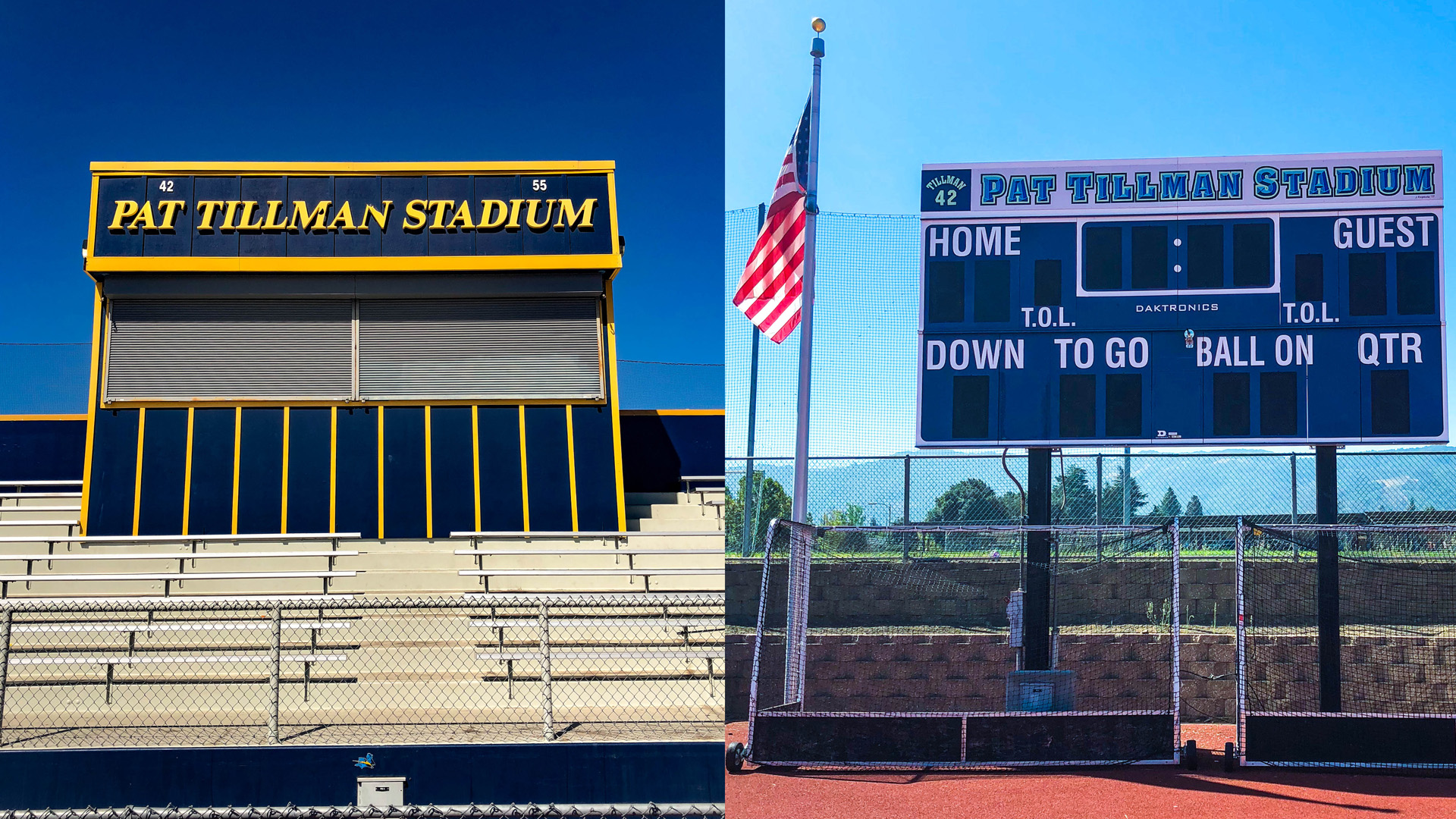 (The press booth and scoreboard at Leland's Pat Tillman Stadium. Photo courtesy of Mike Ward)
As usual, Smith and the Lions will be ready to play. "It will be a unique experience for us next year to head to Leland High School. Sometimes it's tough to travel. It's a business trip and we have to make sure we treat it like that."
Liberty starts their season 5-0 for the first time since 2014, which was their last appearance in a state championship game, and has a bye week this Friday to get ready for regional play. Be sure to check out Tuesday's "Best in the West: Week 5 Preview," to read more about the west side action this Friday.
Leland heads back to San Jose with a 1-2 record, matching their loss total from last year, and begin league play next week.
"We have to stay healthy," said Ward. "But we have to keep grinding. We're really young on defense, and that showed at times tonight."
The home-and-home series concludes next year, but both coaches hope that this game starts a new tradition to honor Pat Tillman with a yearly matchup, eventually held in a college or pro venue.
Good job Varsity Lions! Final Score: Liberty 56/Leland 7. The Pat Tillman Bowl Trophy will belong to Liberty this year! pic.twitter.com/jUGSEbsGGp

— LibertyLionsFootball (@LibertyFBLions) September 15, 2018