In the southeast Valley Zack Shepherd's name may not be the first one mentioned surrounded by neighboring 2019 Division I quarterbacks Spencer Brasch (Higley), Gunner Cruz (Casteel) and Devin Larsen (Queen Creek). But make no mistake, the Williams Field three-year starters prep resume' simply stands alone among the quartet.
All Shepherd has done since becoming the Black Hawks' starter before his sophomore season is guide WF to their first state championship in program history, win 24 of his 28 starts under center and throw 40 touchdowns in his first two seasons competing against some of the state's best defenses.
Bomb Squad❄️ https://t.co/tVBHAaJ5q7

— Zack Shepherd (@zshep12) August 1, 2018
However, it's what he's done off the field from a leadership standpoint which pleases his head coach the most.
"He's been a transformation," Steve Campbell said to Sports360AZ.com on Friday. "[He and I] talked every year about that. When he was going to be a sophomore and going to be the quarterback…some of the older guys took him under their wing. This year he's really took it upon himself to say, 'these guys are looking to me as a three-year starter.'"
A student of the game, Shepherd has mastered the Black Hawks' pro-style offense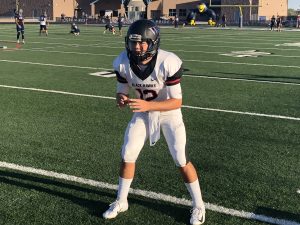 — Zack Shepherd (@zshep12) May 9, 2018
"He can make every throw that you measure a quarterback [by]," Campbell said. "His knowledge of the game and what he brings on the field is something probably most high school quarterbacks don't do."
Just keep being you Zack Shepherd.