Leland High School was on a tear.
The San Jose school rolled off seven straight wins in 2017 for the first time in six years. Head coach, Mike Ward along with his coaching staff, had turned a 2-8 team into a championship contender in only his second year at the helm of the program.
Leland would make their third Central Coast Section Championship game since they shutout Milpitas 35-0 in the 1993 Division I championship. That shutout included two touchdowns by their star running back and the man their field is named after, Pat Tillman. Central Coast Section records show both TD's were followed by an extra point completed by his brother, Kevin Tillman.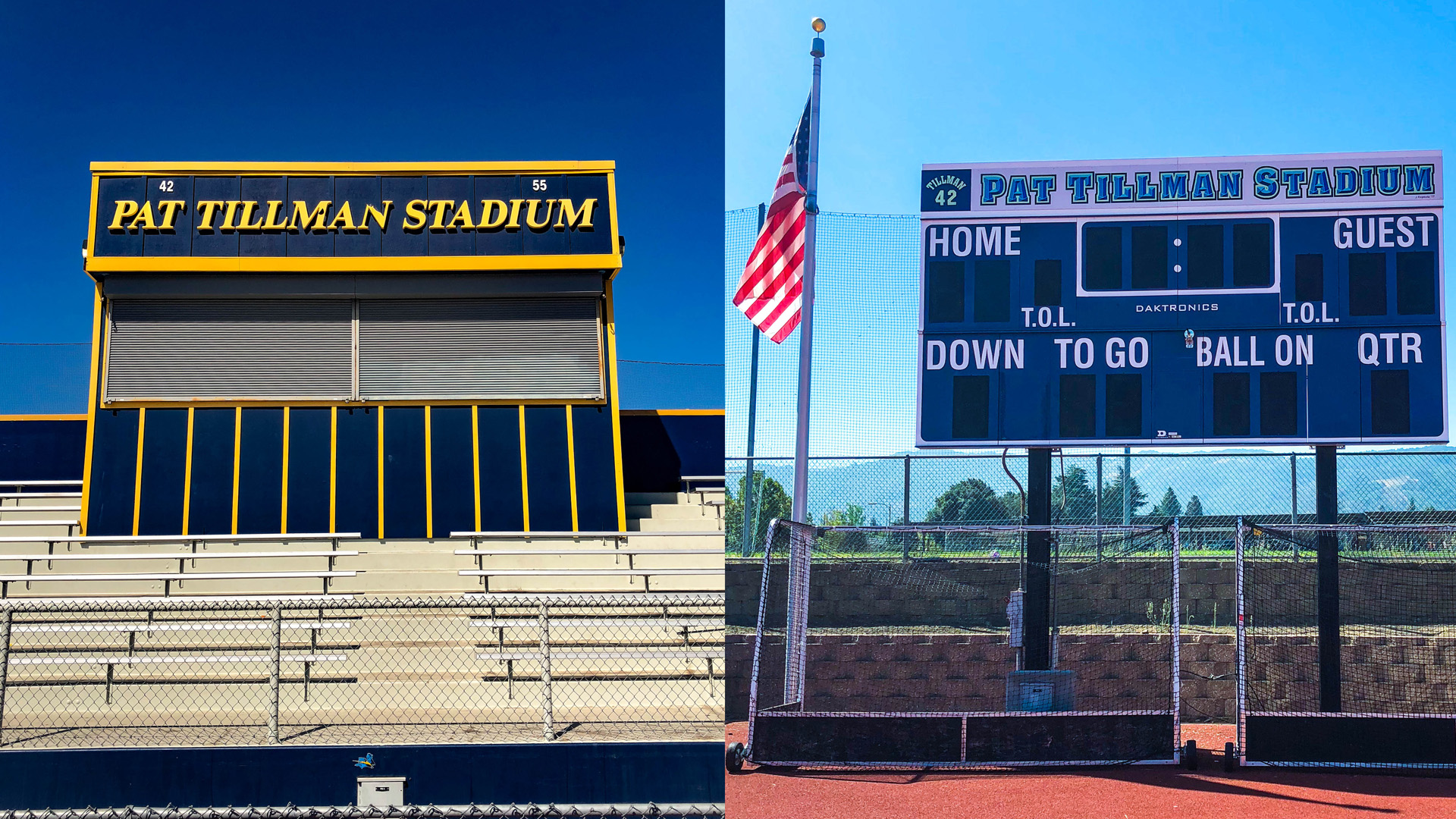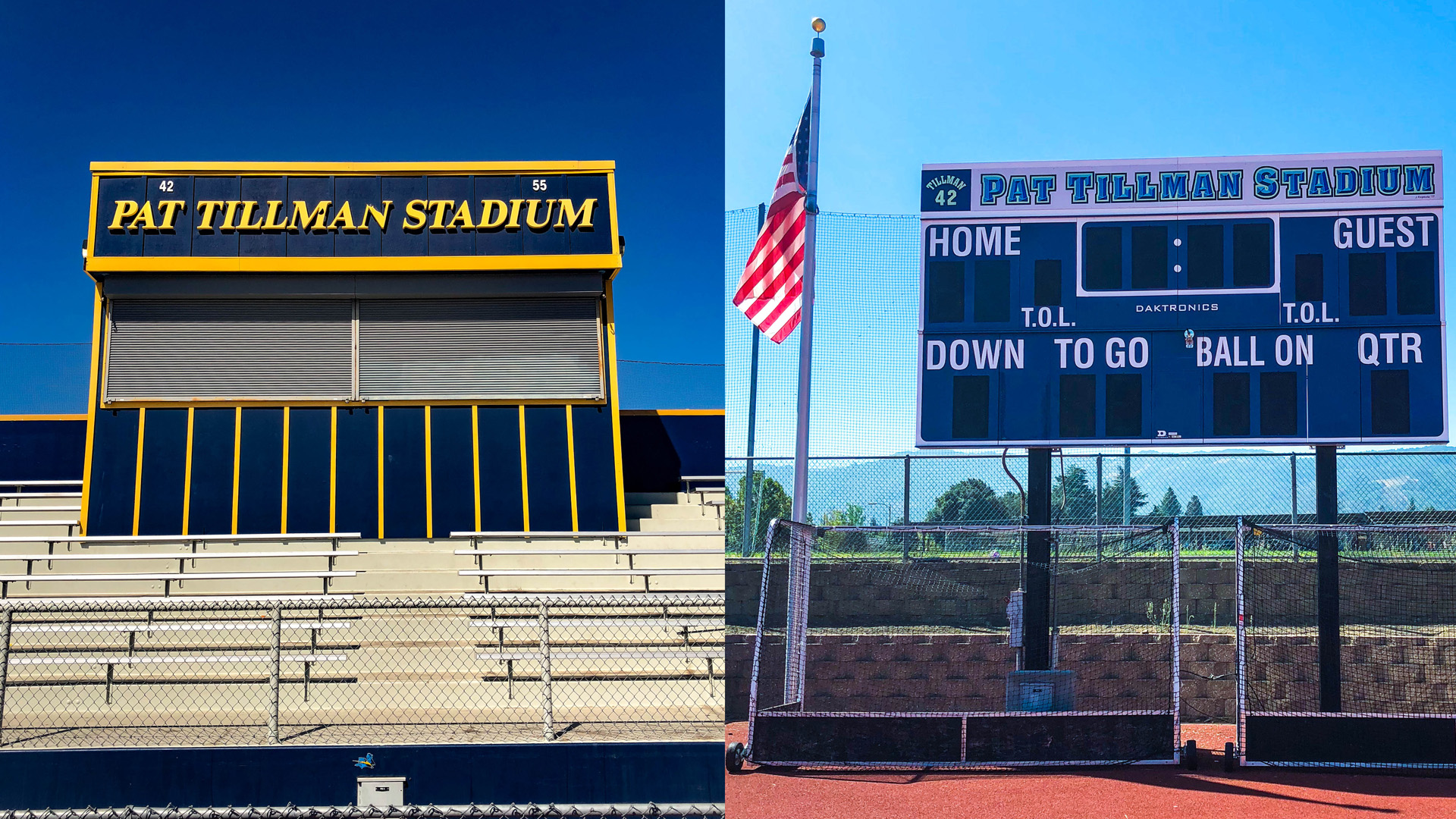 Pat Tillman Stadium Press Booth and scoreboard at Leland High School in San Jose, CA. Courtesy of Leland's Mike Ward.
While the Chargers lost last year's section championship, there was something even bigger coming to fruition behind the scenes. On Oct. 4, 2017, Ward posted an inquiry on footballscoop.com for an out-of-state matchup. It didn't take long before Mark Smith of Arizona's Liberty High School made contact.
"Coach Smith reached out to me almost immediately," said Ward. "By January we had the ball rolling."
The Lions of Liberty were having a stellar season themselves. Besides a three-point loss to rival Sunrise Mountain, Liberty held an average margin of victory of 40 points per game in 2017. The Lions coach knew this would be a great opportunity for Arizona, and his team.
"I thought it would be a good fit because that is where Pat Tillman went to high school," said Smith. "They have a Pat Tillman Classic every year, so I thought, let's bring the game here."
Coincidentally, both coaches attended the same Brewers Spring Training game in Maryvale, Arizona. Smith and Ward met up and worked out the final details. This will be the first time that Tillman's alma mater will visit the state that he impacted so heavily.
The 1994 Leland graduate would make his mark in Arizona as a linebacker, helping lead the Sun Devils to their last Rose Bowl in 1997 and playing a part in the Cardinals first NFL Playoff win in 1999. Following the terrorist attacks on America on Sept. 11, 2001, Tillman and his brother Kevin, joined the U.S. Army to become Rangers. Pat was killed in Afghanistan in 2004.
"I know Pat means a lot [in Arizona] in his own regard with the Sun Devils, and the Cardinals, and Arizona in general," said Ward. "He also means a lot to us up here, so it's cool to share our own personal dedications to him and how we carry ourselves and our programs. We're going to continue that legacy."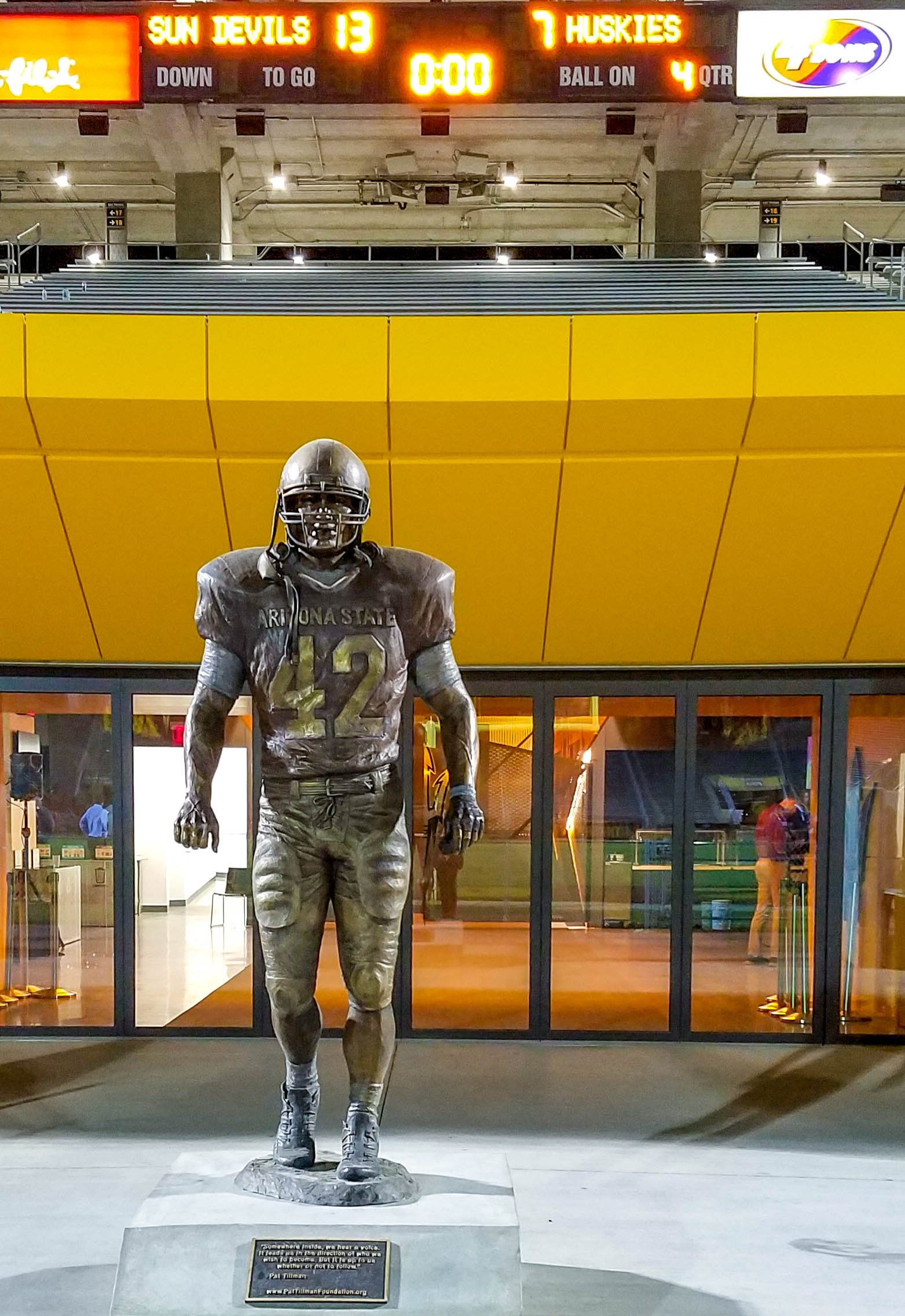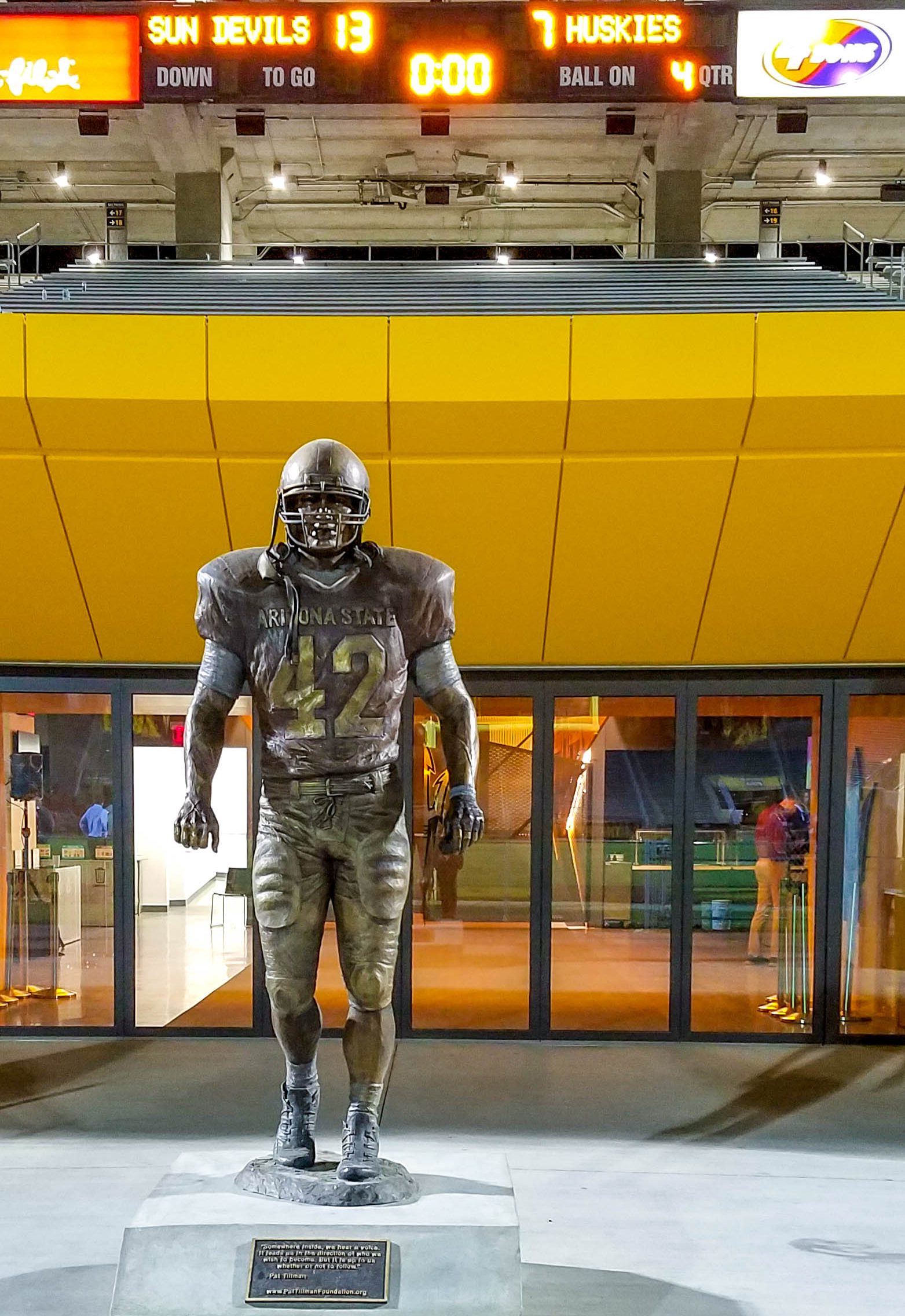 The 400-pound Pat Tillman statue stands strong in Sun Devil Stadium. Photo by Devon Henry.
Tributes to Tillman are scattered all around San Jose and Arizona. Arizona State has many tributes, including a statue that every Sun Devil Football player touches as they rush onto the field before every home game. The Cardinals include a Tillman memorial locker in their Tempe training facility.
"I think this is more than a game," said Liberty Athletic Director, Aaron Coughanour. "It's a great opportunity to play the school that Pat Tillman attended, and it is a chance to thank the people that served their country and community."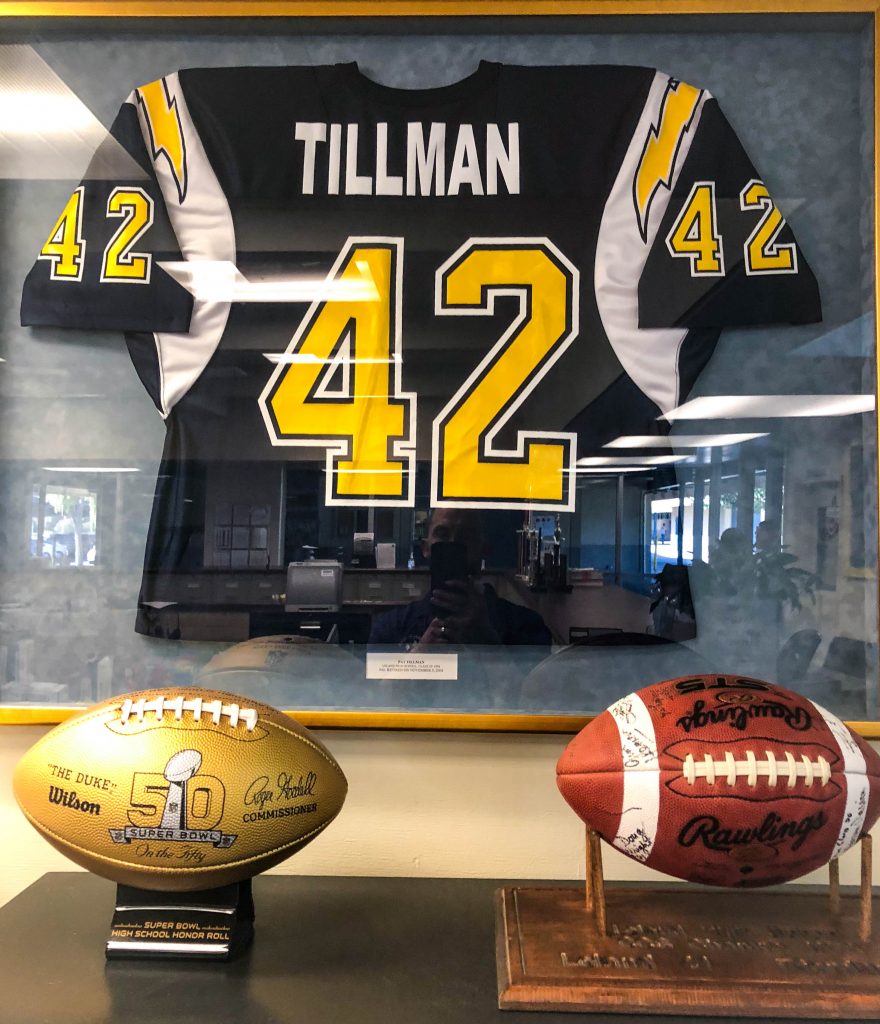 Leland's retired Pat Tillman jersey hanging in the front office. Courtesy of Leland's Mike Ward.
We stand only days away from a Leland vs Liberty "Pat Tillman Classic," a game that features both schools playing an out-of-state opponent for the first time. Coach Ward says the adventure will be a "business trip," as the team flies out Thursday and returns home Saturday. The short trip will be highlighted by a visit to Arizona State to see Frank Kush Field and the statue of their alumni that was constructed under Todd Graham's rein in 2017.
The Lions are making an event out of this game including a 4.2 kilometer run Thursday night, with all proceeds benefitting the Pat Tillman Foundation. The game will celebrate all branches of the military, along with first responders, with free admission to any members with ID. In addition, the teams will auction off items to benefit the Pat Tillman Foundation. Liberty's Peoria Student Broadcasting Network division will stream the game live online.
Come join us Thursday night in support of the Pat Tillman foundation. We would love the entire community join us in support ! pic.twitter.com/6ednA8lpvd

— Liberty Stuco (@StucoLiberty) September 7, 2018
After starting the season with a shaky 7-0 victory against Brophy Prep, quarterback Jonah Guevara has found his groove, racking up 519 passing yards in the past three games with the Lion offense scoring 113 points. A rock-solid defense, led by Ryan Puskas and Braxten Croteau, has stopped most offenses in their tracks.
Another junior quarterback has been the heart of the Chargers offense. Carson Yates has accumulated 494 total yards over two games and is responsible for six touchdowns. Preston Gook knows how to hit hard and has been a star for Leland, helping lead the defense this season.
You can read more about the matchup in Tuesday's "Best of the West: Week 4 Preview."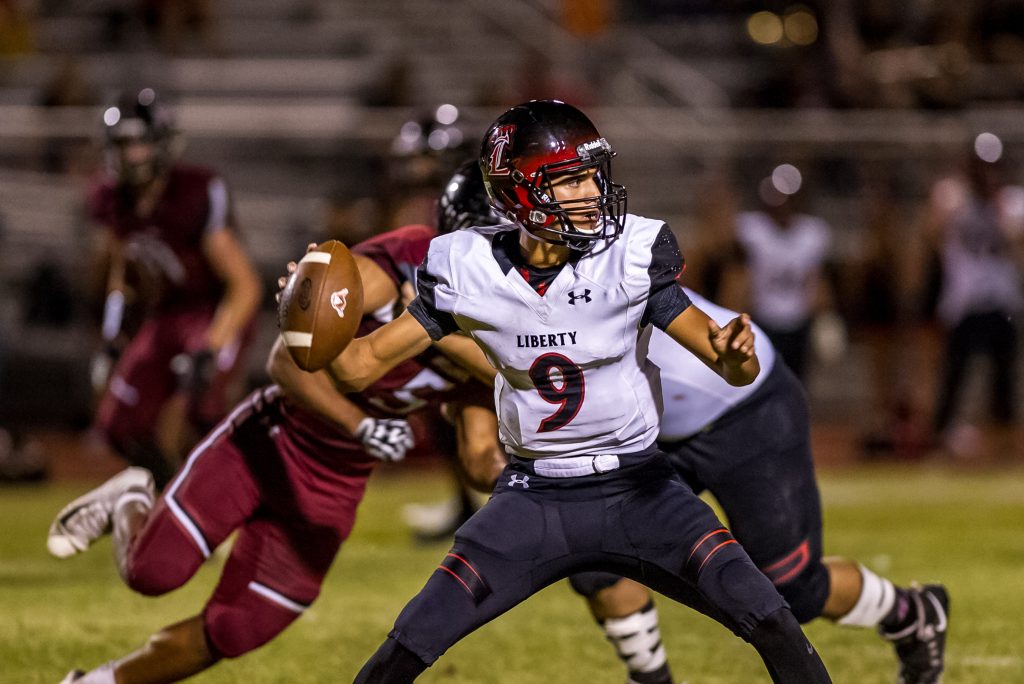 Liberty quarterback, Jonah Guevara, gets ready to throw during an exhilarating win at Desert Ridge. Photo by Andy Silvas Photography.
"It's going to be an exciting atmosphere," said Smith. "Hopefully we can honor all the military branches, the Pat Tillman Foundation, the first responders, and put a good product on the field."
Ward agrees this will be a memorable and unforgettable experience for everyone involved.
"Win or lose, blowout or last-second overtime game, it's bigger than that. For us to share with Liberty and for them to share with us, it's pretty cool."
The Leland Chargers will leave for home on Saturday, but these two teams will see each other again soon for game two of their home-and-home series when the Lions travel to San Jose next season.