We're two weeks into the Arizona high school football season and time is already flying. We've already seen a number of epic performances, surprises, disappointing losses, key injuries and other storylines out of everyone's control.
So without further delay, here's what caught my eye on the eve of Week 2.
Eye of the Storm
With the start of the high school football season comes the unexpected. Last week it was inclement weather, specifically lightening, rain and typical monsoon conditions, which postponed a dozen games around Arizona. Fortunately, the AIA was thinking on their feet and made, for the most, the overnight delays seamless.
"Our area commissioners did a terrific job getting those games re-scheduled for last Saturday," AIA Executive Director David Hines said to the 'Zone Read.' "We are now caught up with all our varsity football contests."
Hines said there is a protocol that is followed but the AIA tries to be pro-active when Mother Nature rains on the #FridayNight360AZ parade so-to-speak.
One of the re-scheduled teams was Cactus who had to double-back to Tucson Saturday morning after their game at Catalina Foothills was postponed Friday night.
36-12 over Catalina Foothills!!! Great overall team win!!! So proud of the boys! 1-0!

— Joseph Ortiz (@JosephO24) August 26, 2018
"We just had to come back the next day and get it done," Ortiz, in his first season as a head coach, said to the #FridayNight360AZ Preview Show Wednesday. "I told the kids it's not about my first win, it's about their first win."
The Salpointe-Dobson game I covered in Mesa was called at halftime (with the Lancers comfortably ahead 56-7) due to lightening in the area.
Remember The Titans
You could make the argument no team in Arizona "stirred the drink" so-to-speak more this summer than the Arcadia Titans and their first-year head coach Kerry Taylor who overhauled nearly every aspect of the program when he took over back in late February.
AHS was in many outlets the uh, "talk" of summer football after being asked to leave a passing league tournament at Central High following some heated exchanges between Arcadia assistants and some opponent's parents. One coach I spoke with called it, "the most embarassing thing I've seen in a long time."
Fast forward to late August and the Titans, winless in 2017, are off to a 2-0 start-stomping old rival Coronado 49-0 in Week Zero, then controlling Deer Valley 40-21. Arcadia has winnable games against Washington and St. Mary's before getting into the teeth of their schedule.
AHS has certainly bought into Taylor's style. Junior quarterback Kaden Beler has been effecient and the rushing attack is averaging close to 330 yards per game. The early season track record speaks for itself.
Bus breaks down on the highway, spend 45 min chillin on the side of the road in the heat, show up late to the game, cut warm ups short. Then ball out. Mental toughness. 40-21 win. THE EMPIRE!!! #TitanUp #NewDay #ForTheCulture pic.twitter.com/GvrMqXoN0g

— Kerry Taylor (@KerryTaylor15) August 25, 2018
Arcadia is also mentally tough and ready to handle unexpected adversity, like they experienced last week on their way to the northwest Valley. Kudos to Coach Taylor and his staff getting the Arcadia football bus turned around…no pun intended. The former Cardinal wide receiver was named the Arizona Cardinals and Wells Fargo Coach of the Week on Wednesday.
It's A Numbers Game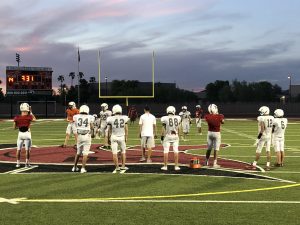 You have two excellent options in the west Valley with Bishop Gorman (NV) making the trip down to take on Centennial (Jason Jewell will be covering that heavyweight clash) or you can opt for Liberty hosting Sunrise Mountain–two schools separated by just over two miles (Jordan Hamm will be at that one).
Liberty week. Let's go Mustangs! pic.twitter.com/tn2ERKKVFP

— SMHS Football Family (@SMHSFootballFam) August 29, 2018
I'm curious to see how 2018 early-season road warrior Desert Edge does in southern Arizona against Salpointe. The Scorpions dominated Prescott on the road in Week Zero but the Lancers are a completely different animal and weren't tested at all against overmatched Dobson.
It's a safe bet the Lancers will try to confuse talented freshman quarterback Adryan Lara, while leading tackler Max Crosner, stud defensive tackle Nassir Sims and the rest of Jose Lucero's defense will try to slow down Salpointe's three-headed monster of running backs Bijan Robinson and Mario Padilla, as well as do-it-all junior Lathan Ransom.
An early-season 4A "measuring stick game" of sorts, especially for Desert Edge.