It was great to be back under the Friday night lights this past week so let's look back at what caught my eye in Week Zero, as well as a few storylines to follow around the state heading into Week One.
Without further delay, my latest "Zone Read."
Pick(ing) Sides
Trivia question (and no cheating): What's the longest running high school football rivalry in Arizona?
My guess is very few of you knew Douglas and Bisbee will play for the 148th time Friday in southeast Arizona–which ranks as the fourth-longest rivalry game in the nation.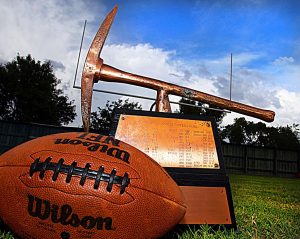 While Casteel proved to be no match for the defending 5A State Champion Centennial Coyotes in Week Zero, the same can't be said for mother nature in Queen Creek or any part of the Valley for that matter. Night temperatures hovered in the low 90's and featured high humidity and little breeze.
One program which has consistently flown under the radar is the Buckeye Hawks (no pun intended). Head coach Kelley Moore has compiled a 32-13 record since taking over back in 2014.
Two years ago I introduced you to spark plug quarterback Joseph "J.C." Perez who tallied 94 total touchdowns and over 6500 yards of total offense in 31 career games behind center.
Tomorrow is really my last day in buckeye, crazy how fast life goes by. Shout out to everyone who got me here❤️

— Joseph? (@JC5PEREZ) July 3, 2018
Perez is now at Mount St. Joseph University (OH) and the torch has been passed to junior Angel Macedo who shredded Tucson Amphi last week, completing 16 of 20 passes for 258 yards and four touchdowns. He also added 41 rushing yards and a score in the 51-7 win.
"As the season progresses we will see how he fares," Moore told the "Zone Read" when asked to compare the two quarterbacks who share both similar size and skill sets. "Angel is his own man."
After hosting Kingman Lee Williams this week, the competition ramps up with road games at talented Peoria, Odessa (TX) and home tilt against another Texas opponent, Mesquite.
No Steer-ing Clear
When Jake Smith sent out this tweet back in early June his life, in some ways, changed forever.
I am 110% Committed to The University of Texas?? #HookEm pic.twitter.com/NqYgJdXtdf

— Jake Smith (@jakesmith27) June 4, 2018
The Notre Dame Prep "athlete" had Power 5 offers from around the country but decided Austin, Texas made the most sense for him both and off the field.
The Longhorn social media buzz over the four-star prospect, who will play slot receiver for the Horns, has been well,…extreme.
"It's crazy, that's the only way to describe it," Smith said to the "Zone Read" shaking his head. "The fan love is out of this world…sometimes it hard to even go through all [the social media mentions], I can't even see them all. It's definitely nuts."
When much is given, much is expected.
Make no mistake, Smith has a bright future ahead in the Big 12 but first, his only goal is getting back to the 5A state championship and hoisting that gold ball.
Future Unknown
Behind the scenes people are still fighting to save junior college football here in Arizona. Nobody is certain what 2019 will bring but there are a host of talented locals who are either bounce back Division 1 players or guys simply looking to extend their careers and get noticed this season.
One of the Maricopa Community Colleges who made a big push to sign said players was Scottsdale. Head coach Doug Madoski inked former north Valley standouts Tristen D'Angelo (Boulder Creek), Ben Fox (Pinnacle), Cole Fisher (Notre Dame Prep) and Kare' Lyles (Saguaro/University of Wisconsin). Many of the players refer to themselves as #ScottyBoyz18.
Artichoke Nation welcomes Ben Fox from Pinnacle HS to the SCC family! Big things coming from this big dude!!! #GoChokes ???? pic.twitter.com/UnuWcIGZEr

— Scottsdale Football (@ChokeFootball) February 7, 2018
Arizona JUCO football is an incredible outlet which opens up so many opportunities for student-athletes to chase their dreams.
Over the past 10 seasons no other College in Maricopa County has placed more Players at the Division 1 level than #Scottsdale #WhosUpNext ?

— Scottsdale Football (@ChokeFootball) December 7, 2016
Let's hope they figure something out, sooner than later.