Like nearly all early NFL pre-season games, there was some good, bad and ugly takeaways from the Arizona Cardinals close win over the Los Angeles Chargers in both teams exhibition opener Saturday night at University of Phoenix Stadium in Glendale.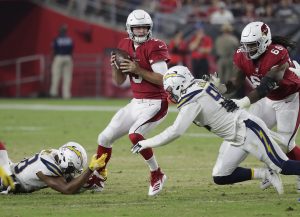 — Arizona Cardinals (@AZCardinals) May 4, 2018
While frequently bending over to field errant shotgun snaps behind center or scrambling to avoid pressure, Rosen looked the part of a seasoned vet, not a first-year player being baptized-by-fire in the pre-season.
"He looked comfortable," King explained.
.@Josh3Rosen dropping DIM3S in his first @NFL Training Camp. #CardsCamp pic.twitter.com/qJomyj9k6w

— Arizona Cardinals (@AZCardinals) August 14, 2018
The long-time NFL columnist would like to see Rosen play more with the first-team in the Cards' third pre-season game on August 26th in Arlington against the Cowboys. With starter Sam Bradford's injury history, King believes it only makes sense for Rosen to work with the starters as the regular season quickly approaches next month.
The Cardinals hit the road this week playing the Saints in New Orleans on Friday night.