By Jason Jewell
I started out at the Central-Sunrise Mountain game in the west Valley but left when the Mustangs went up big and headed down the street to the Brophy-Liberty matchup, catching the second half of that 7-0 Liberty win. Here are some of my notes from that game.
Breakout Performer
Sunrise Mountain WR
Jay Anderson
is dangerous with the ball in his hands, be it in the return game or split out at receiver. He is this year's version of
Angel Ruiz
for the Mustangs. I expect him to top that 1,000 yard mark with ease.
Breakout Prospects
I love spotting young talent and found two that I think will be division-one players. 2021 corner E.J. Anderson from Sunrise Mountain, younger brother of above mentioned Jay, is a very long, good-looking player. He is over 6'0″ tall now. This is the third time I have seen him (saw in playoff practice last year and in spring ball) and he impresses more each time.
Final score SMHS 43, Central 8! Congrats Mustangs! FIXED #smhsfootball pic.twitter.com/PeAO1AW69Q

— Sunrise Mountain (@SunriseMustangs) August 18, 2018
Brophy has a nice looking 2020 OT in Andrew Milek. He is 6'5″ 275 and starts at left tackle and defensive tackle for the Broncos. His future is on offense and he held his own against Cal commit
Braxten Croteau
.
Defense Wins Championships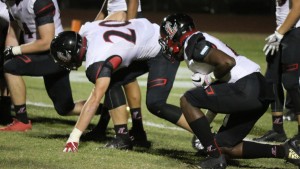 I knew Liberty was loaded on defense with Cal commits Croteau and
Ryan Puskas
, but Brophy is better than I expected. Both struggled offensively
on Friday
. Brophy's leader on defense is Marques White.
28 Strong
Central was out-manned against Sunrise
on Friday
, suiting only 28 players, but very few schools in this state can say that they have three defensive linemen with division-one offers. Eloi Kwete plays with a motor! He doesn't have the size of his brother Cosmas or
Casey Clanton
but he doesn't quit. All three never leave the field and form an impressive looking line on either side of the ball. The Bobcats will do well in region play, as long as they can stay healthy.