It's late afternoon as the sun sets to the west of Paradise Valley High School in north Phoenix. On the steamy turf players work drills with their respective position coaches. However, these groups (or in some cases, group) are more of three or four, not eight or nine like at some programs with similar enrollents. It's the new normal for Trojans' head coach Greg Davis who has just 22 varsity players competing at the 5A level.
Game day! A great day to be a Trojan! After all of the offseason work, it is finally here. We might only have 22 Varsity players, but I'm so proud of all of our guys & the hard work they put in to get to this point. Love to see entire Trojan Nation @ Central High School tonight 7 pic.twitter.com/4NIS0yPyKX

— Coach Davis (@FBCoachDavis) August 24, 2018
"We've always had lower numbers but this year is alarming," Davis said to Sports360AZ.com. "I'm calling other coaches and asking them how many they have out [for football]. It seems the numbers are down right now. Here at PV I've put out announcements, 'Hey come on out.'"
Davis and his staff have had to get creative at practice using junior varsity players to work into drills and run scout team simply due to the lack of bodies. Paradise Valley's enrollment is close to 2,000 students.
The good news is the Trojans are, despite the low numbers, loaded with experience. Several of the juniors and seniors have been playing varsity for two, sometimes three seasons.
Davis and his team know they can't use their small roster as an excuse on Friday nights.
In short, it is what it is.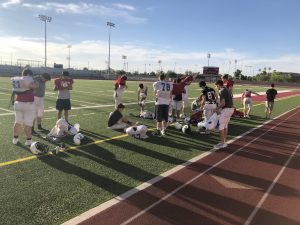 "We know that on every given play we can work and we can trust that the people next to us are going to be doing what they need to be doing," senior defensive lineman Dylan Duggan said to Sports360AZ.com. "We're going to make sure we're competing."
It seems only fitting few do more with less than the 2018 Paradise Valley Trojans.
All 22.