The much anticipated meeting between Phoenix Rising FC and Major League Soccer, took place today in New York City. Here are some takeaways from the two-hour session at MLS Headquarters.
-In attendance for Rising FC for the meeting were owners Berke Bakay, Tim Riester, David Rappaport, Alex Zheng, Brett Johnson, Mark Detmer, and Didier Drogba. Tuesday night the ownership group had a planning session that included Goldman Sachs, Populas(the stadium architect) CSL market research and a lawyer. Here's a pic from that planning session.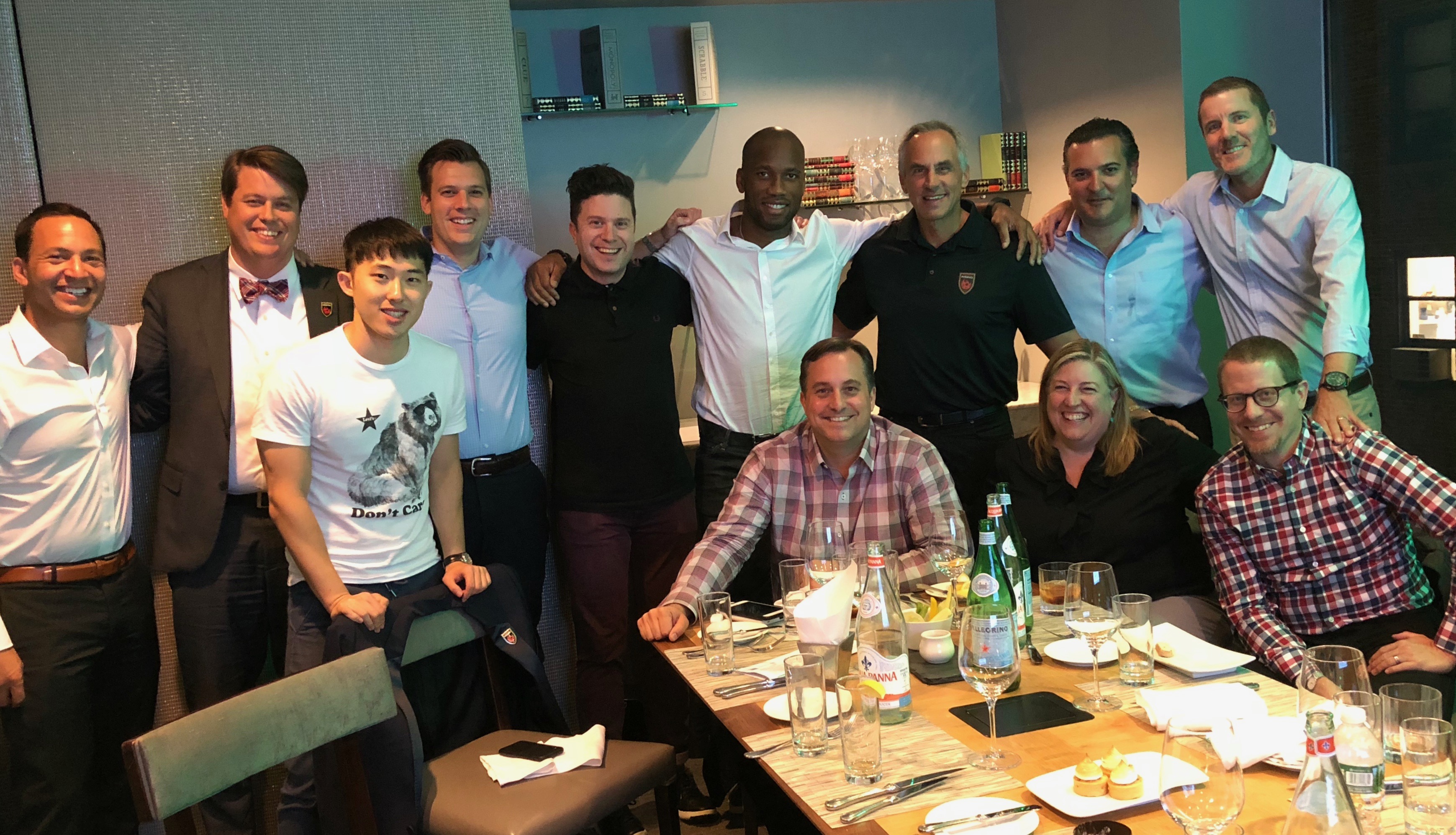 -Rising FC Co-chairman Brett Johnson spoke with enthusiasm to me after the meeting was complete. "It was a big step, we were ready today. A year ago we weren't ready". People need to remember that two years ago, Rising FC wasn't even around. The current stadium was full of weeds and nothing else. Rising FC didn't come into existence until November of 2016. Johnson is the longest tenured link to soccer ownership of the franchise. He came on board at President when the team was still Arizona United back in 2015. "We did about as good a joh today as possible, we're confident".
-Rising FC Owner Tim Riester on todays meeting-"My biggest takeaway is how impressed I am with MLS Commissioner Don Garber and his leadership staff at MLS. He approaches his work like a true partner and never stops working to help franchises and the League. I think we are fortunate to be working directly with the founders of the MLS. Don hasn't forgotten how hard they had to work to create the successful league MLS is today. As a result, he remains humble, appreciative and seems to still approach his day like an entrepreneurial leader of an extremely successful startup company".
-Addressing the heat in a new facility was one of the items brought up, though I'm told that MLS was very impressed with the overflow sellout crowd of last Saturday vs Sounders in brutally hot conditions.
-MLS was intrigued with the entertainment makeup of the Rising FC group. David Rappaport is one of the owners. He has brought artists Pete Wentz and Diplo into the ownership group as investors. MLS, as all sports, loves reaching young demos. Rappaport has connections to hundreds of performers.
-Having Alex Zheng in attendance for todays meeting was BIG for Rising FC. The MLS will one day look to expand to China. Having someone like Zheng, who already has shown great success in soccer with his ownership of OGC Nice Soccer Club in France. If you want to play in pro sports you need a billionaire in the ownership group. Zheng checks that box. Here'a bit more about his other soccer club ownership.
Chinese Investors Buy French Soccer Club OGC Nice
Johnson on Zheng "It's so much more than capital with him. He fits with the ownership group so well."
Johnson and Berke Bakay will head to the MLS All-Star game next weekend in Atlanta and will have League meetings with the USL and also connect further with Major League Soccer people. This was a big step, but there's more to come before the possibility of moving to the next level becomes reality.