Deandre Ayton quickly became a household name in the state of Arizona and eventually across the country playing his prep ball at Hillcrest Prep Academy and eventually earning All-American honors and Pac-12 player of the Year his freshman season with the Arizona Wildcats.
He could add "#1 overall pick" to the resume if the Phoenix Suns use their top pick on him in the NBA Draft later this month.
Ayton worked out for the Suns on Wednesday morning, giving the Phoenix brass an up-close look at what the future could look like.
"As far as the workout goes, we tried to create as many game situations as we could," Suns general manager Ryan McDonough said. "(We were) using coaches, putting him in different scenarios offensively and defensively, did a lot of shooting, a lot of finishing, some defensive drills and he did well in just about every area."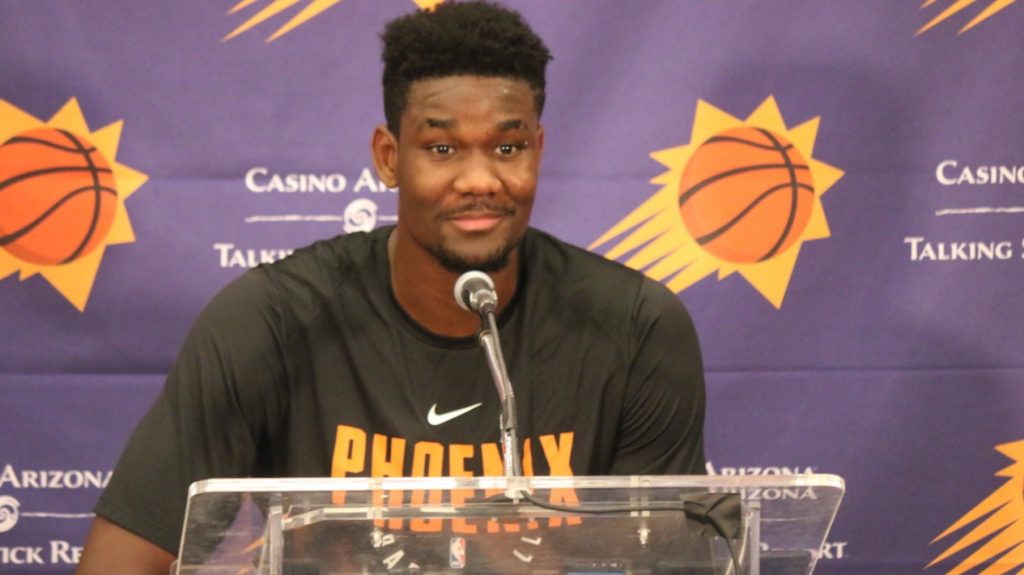 The 7-foot-1 Ayton averaged 20.1 points, 11.6 rebounds and 1.9 blocks per game in his lone season under Sean Miller. While the three-pointer was not a staple of his game, he showed the ability to shoot from the outside, hit 34.3% of his shots beyond the arc.
"I'm the best competitor in this draft," Ayton said after his workout. "I won't say I'm the best player. I won't say that, but I would say on the competitive level, I am the best competitor. I don't think there's nobody like me. I play my heart out on both ends of the floor, and I give it my all. I played hard through the whole season, and I think I deserve to be the #1 pick."
What's Next For Deandre Ayton
Ayton said this was his first, and only, pre-draft workout with an NBA, and he is very confident he and his family will be staying in Phoenix.
.@DeandreAyton has a strong feeling where he could land. pic.twitter.com/MVWWBe9BtY

— Sports360AZ (@Sports360AZ) June 6, 2018
McDonough said multiple Suns stuck around after their early morning workout to watch Ayton's, including Devin Booker, Josh Jackson and Marquese Chriss. Ayton made headlines last spring when he said that he and Booker could remind fans of a former duo that dominated the NBA.
"Like I said from the beginning, that's Shaq and Kobe 2.0," Ayton said. "That's big. We could really make something happen in Phoenix. We could really have a spark and have a winning legacy here, start a winning legacy."
The Suns will continue to work out other top-flight prospects this week.