Another year, another Arizona-native gets called up for the Dodgers. Last year, it was former Hamilton baseball star and eventual National League Rookie of the Year Cody Bellinger. This year, it's former Sahuaro standout Alex Verdugo.
The Tucson-native was an outfielder and left-handed pitcher for the Cougars, posting a career .486 batting average and 2.19 ERA with 401 strikeouts in 236 innings pitched over four years.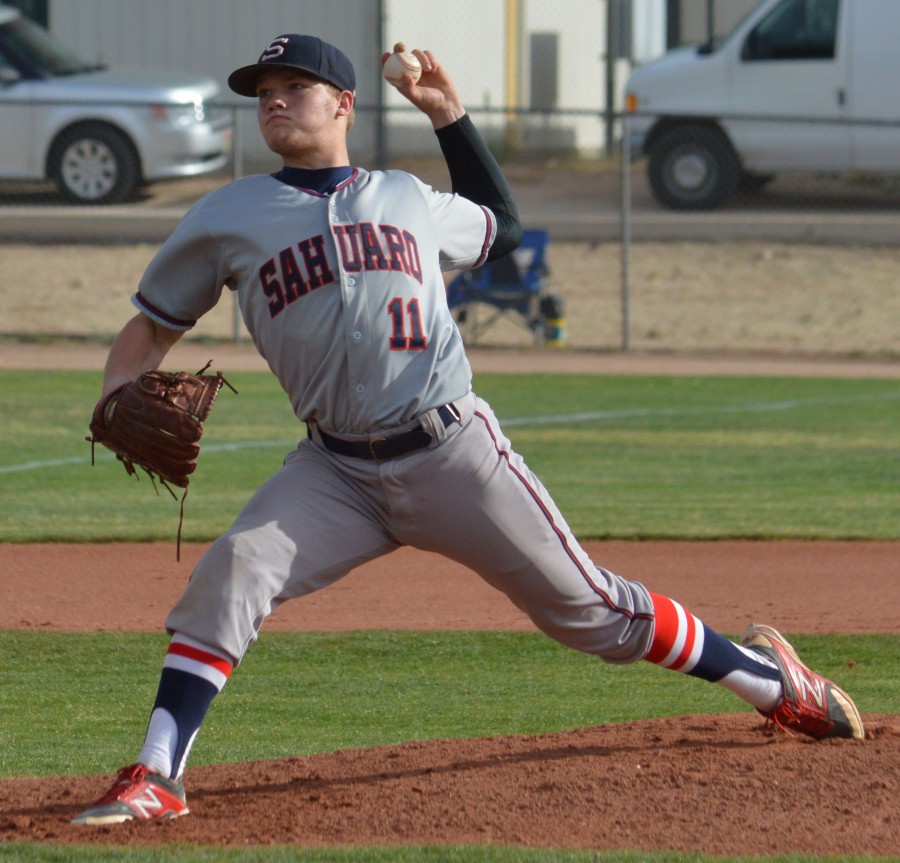 Courtesy: Andy Morales
"The weather is consistent, it's hot all the time so and that's just it," Verdugo said. "I had some good coaches growing up and was able to stick with it and it worked out."
The 21-year-old was a 2014 second round pick by the Dodgers and quickly rose up the the Dodgers farm system.
It's All In The Clubhouse
After Yasiel Puig found himself on the disabled list this spring, Verdugo got the call up again. In six games, he is hitting 8/21 (.381 batting average) with two runs scored and an RBI.
Verdugo was a September call-up last year and said having that familiarity is helping him in 2018. The Dodgers clubhouse seemingly has a big-time prospect make the jump to the big leagues every year from Joc Pederson to Corey Seager to Bellinger and Walker Buehler.
The outfielder said having young players hit the ground running consistently helps set the standard for new players joining the clubhouse.
"I think we have a lot of guys in the front office who do a good job scouting and picking up players," Verdugo said. "The guys in the clubhouse do a good job of welcoming him and making sure they feel a part of the group. They let us know what to expect and how to go about our business. They kind of help you out.
Bringing "An Edge"
Alex Verdugo brings his own flavor to the diamond. It's easy to notice him, from his tattoo sleeves to his bright red batting gloves and hightop cleats. But his style applies to not only his accessories, but also to his style of play. He has a knack for extending a typical single to extra bases or playing aggressive defense. He has supplied a spark to the Dodgers, who are riding a three-game win streak, and his manager has noticed.
"He's got a little edge to him," Dodgers manager Dave Roberts said. "I like his at-bat quality. He can defend at all three outfield spots…I think the handedness doesn't bother him, left or right-handed (pitching). I just like his at-bat quality and he can slug when he needs to as well."
What' Next For Alex Verdugo
The Dodgers are currently in Mexico playing the Padres. Alex Verdugo played for Team Mexico in the 2017 World Baseball Classic.
Dodgers will bring Mexico native Julio Urias, who is rehabilitating shoulder injury, to Monterrey for appearances at this weekend's games vs Padres. Alex Verdugo, who played for Mexico in last year's WBC, is on current LA roster. Fernando Valenzuela to throw out 1st pitch Friday.

— Bill Shaikin (@BillShaikin) April 30, 2018