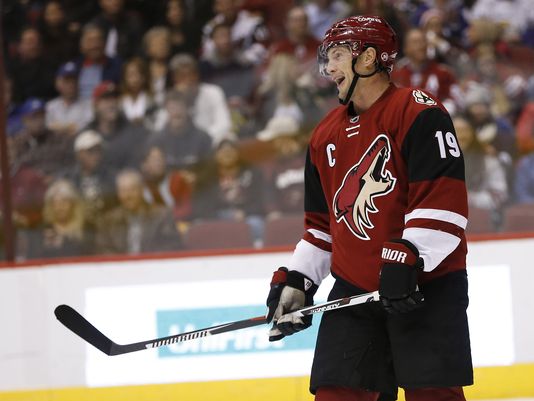 Shane Doan would've looked soooo good in a San Jose Shark or Washington Capital sweater. Too bad for him it won't be happening. The Capitals and Sharks were two of the teams that at least kicked the tires on "Captain Coyote". I would've moved him, but that's just me sitting behind a microphone and a laptop. The organ-I-zation would've gotten hammered(wrongly) for trading away the most loyal soldier in Arizona sports history…
AL McCoy has no idea who's inducting him into the Suns Ring of Honor on Friday night. McCoy talked about it in this weeks Arizona Media Podcast.

Jerry Colangelo makes the most sense to handle the MC role. He hired Al, he's stil an iconic figure(Like Al) in the community. But my sense is the present day powers that be wouldn't go for that idea. I wish I were wrong…
Jeff Van Raaphorst may be ditching his maroon and gold golf shirts for the blue and white of Duke. The Sun Devil legend is the proud dad of a lacrosse star for the Blue Devils. Youngest son Cade Van Raaphorst is killing it in Durham.

? Cade Van Raaphorst! @ACCMLax Co-Defensive Player of the Week ?https://t.co/gKFKvCfQOT pic.twitter.com/RxqvgWIuXn

— Duke Men's Lacrosse (@DukeMLAX) February 27, 2017

Cade is excelling in the classroom at Duke, majoring in Public Policy and minoring in Spanish. Good things happen to good families…
Which program is closer to breaking through in the next year? Arizona State basketball or football? Not a shot, just a simple question that i've asked several die-hard Arizona State supporters. I am getting more and more "basketball" answers. Scheduling Kansas, plus having potential matchups with Xavier and Kansas State in Vegas and St. Johns in LA, has some long suffering fans very excited for basketball…
Alex Barcello exceeded my expectations as a Arizona high school player. While Corona Del Sol didn't win the 6A State title this week, Barcello finished his high school career among the best I've ever seen. I wrote four years ago that he was the "next great Arizona high school player" and I got C-R-U-S-H-E-D for expressing my point of view. Now he's off to Point Guard U, where I am sure he will only continue to grow and thrive…