The Cardinals aren't dead. The beauty of sports is the "comeback". I like it when dirt is being thrown on the casket and most have moved on. I haven't.
The first two months of the NFL regular season isn't life or death as long as a team can stay within striking distance. Been covering and watching the League for 30 years, it's the ultimate war of attrition. Forget the out-of-town scoreboard, just take care of your own business. Fix, as best as possible this time of year,  the leaky offensive line and I think they will be hanging around at the end of December…
While Carson Palmer has looked better as the season has progressed, it's very clear that the Cardinals should be looking for the future at that position. DeShone Kizer(Notre Dame), Mitch Trubisky(North Carolina)Deshaun Watson(Clemson)or Chad Kelly(Ole Miss) are just a few of the college names you may want to be watching .
GM Steve Keim was out scouting this weekend…
Mike Hazen as GM, Torey Lovullo as manager won't move the needle initially with the fan who goes to a couple of Diamondback games per season, but I like the message that ownership sent out in the two hires. Looking inside the franchise for the next manager was not the way to go. If Mark Grace, Matt Williams and Phil Nevin(Reno manager) hadn't been hired in the past, then why would they suddenly make sense now? The franchise needed a complete reset in both positions and we shall see if it works out longterm…
Looking at the National League, the Cubs were built to win a World Series with their pitching while everyone else in the postseason was designed to win 90 games. You have to have pitching, pitching, and more pitching. Johnson and Schilling was no different in 2001 than what the Cubs rolled out this year. Hendricks, Lester, Arrietta, Lackey and Hammel. So for the Diamondbacks, finding a front-line #2 starter(not named Shelby Miller) has to be the priority to go along with Zack Grienke. If this team is spinning its wheels next summer, I'd try to find a team to take Grienke off my hands. In fact, I wouldn't be opposed to that now, IF I could get back a healthy amount of talent…
Devin Booker is only 20!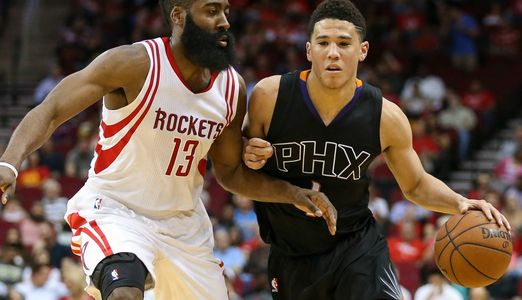 Suns at Lakers tonight. Gotta watch it…
On the college football scene, watching the University of Washington play, has become "must see". The Huskies have a terrific defense along with a prolific offense and a Heisman candidate in quarterback Jake Browning. Arizona State is looking like the "trap" game for the Huskies in a couple of weeks. Washington has USC at home next Saturday,  then ASU in Seattle, followed by the Apple Cup vs rival Washington State just six days later. That UW v WSU game may well be for the Pac-12 North title. Not saying the Sun Devils are going to win the game, but sometimes WHEN you play a game does make a big difference…
A month away from casting my Heisman ballot.  We can't reveal our vote, but there's some compelling storylines other than the quarterbacks this year. I haven't decided…
Rich Rods son Rhett,
 is the starting quarterback for Catalina Foothills high school. They play round two of the state playoffs at Sunrise Mtn. this Thursday. I watched about a quarter-and-a-half of the Wildcats getting steam-rolled(I'm being PC) on Saturday at Washington State. Rich looks like he's going to lose his mind with whats going on. He's in a sword fight with a piece of spaghetti…

Congrats to NAU head coach Jerome Souers for becaming the all-time winningest coach in the Big Sky on Saturday. The Lumberjacks beat Weber State 33-20 and for Souers that meant victory number 112 in conference play. Former Hamilton high star Kendyl Taylor scored twice for NAU in the victory…
If Saguaro played Mtn. Pointe on the football field, who wins?
Another big step forward for Grand Canyon University basketball this week. A road game at #1 Duke next Saturday afternoon should give the 'Lopes roster a up-close view of what it's like to be a punching bag. Good for Dan Majerle to take on this game. I would hope that given the Duke connection, we would see Bobby Hurley at Arizona State do the same thing in the coming seasons…