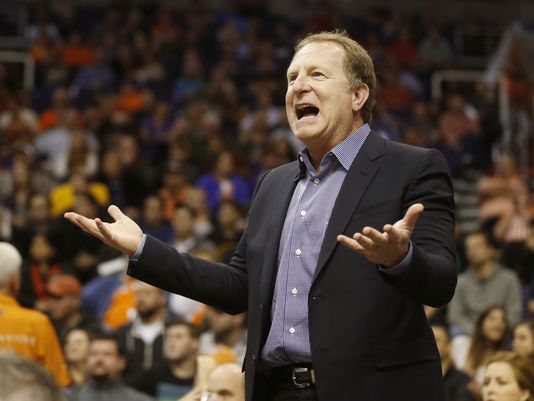 Six straight seasons the Suns have missed the playoffs. More alarming(damning?), there isn't much gnashing of teeth in the community. Even in my profession, i've heard and seen the narrative that fans should be happy that Devin Booker is here and that the organization is now heading in the right direction. Never mind that the Tyson Chandler contract looks like one that they may choke on. Forget about the fact that Bledsoe is coming off his third knee surgery or that the Suns are now back to three guards for two starting positions. Do you think Booker is willingly going to go to the bench or see reduced minuets next season, assuming Knight and Bledsoe are healthy? Last time I saw three guards vying for two starting jobs and minuets it didn't end so well for the Suns(Dragic and Isiah Thomas).
Sure, they have a lottery pick. But do i fully believe that they can execute the pick and take the right players. How often do we see teams get high picks and screw it up? Anthony Bennett was the top pick of the 2013 draft and he's already gone to journeyman status. Looking back on the Suns selection of Alex Len in that same draft. Has he turned out to be worthy of the 5th overall pick? Be honest!
For me, the team has to make a trade for a disgruntled superstar in order to flip the script…
Wins are more important than uniform colors. Don't care about what the Diamondbacks wear. We are better than resorting to that as a talking point after the slow start to this season. So what if Greinke losses Friday in San Diego? Does his social anxiety become a concern? 0-3 isn't what anyone signed up for. Big start for him and the organization against the Padres…
Jake Plummer told me on Wednesdays show that he "thought for a little bit" about trying to play quarterback for the Broncos after Brock Osweiler bolted for Houston. Glad he didn't do it.
Great hire by Todd Graham, bringing Arizona Christian head coach Donnie Yantis on board as the teams new recruiting coordinator. Yantis did a terrific job at ACU in starting up the Firestorm program two years ago. He was pursued by Southern Utah State for their head coaching job earlier this offseason, but always had his heart on working for Graham at ASU. Like those who have gone before him, Graham has found that keeping the top in-state high school players a more daunting task than he thought. Getting a couple good players each year doesn't cut it. When Byron Murphy signed with Washington in February, it was very clear shot across the state that there still isn't enough juice to convince the very best recruits to stay at home. Yantis is highly respected by the in-state high school coaches, dating back to the job he did at Paradise Valley high school before taking the Arizona Christian job…
Coincidence or not? Ryan Finley, who played quarterback for Yantis at PV, left the Boise State program the same day that Yantis informed ACU that he going to Arizona State…
I was told that Graham talked with Steve Belles at Hamilton, Jason Mohns at Saguaro, and Shaun Aguano(last December) about joining his recruiting staff. Give the coach credit, he knows where most of the top in-state talent is stashed…
I've had more than a few veteran high school observers and coaches shoot me notes asking for my view on Mohns program taking on so many transfer players. First of all, this is nothing new. Charlie Ragle at Chap, Belles at Hamilton, and Aguano at Chandler have all been accused of bringing players to their schools. Look, if a kid shows up at the door, what are you supposed to do? Parents are the ones that should be criticized for moving their kids around simply to chase a football scholarship. A coach could say "no", but why should he?
Glad to see David Leibowitz back writing. His Sunday column in the Tribune is a good read…