I've spend the past two weeks visiting teams in the far southeast valley, interviewing coaches and players about the upcoming season. In addition to recent the interviews, I've watched most of the area teams in person over the past two seasons, which has given me a unique perspective of who I believe are some of the top players on each team. Here's a look at three Poston Butte players to watch under the Friday night lights.
Chase Taylor (Sr), RB/WR/LB – 6'2" 200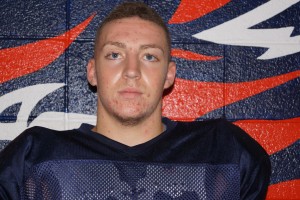 Taylor was one of the Broncos best defensive players last year, leading the team with seven sacks and finishing third with 53 tackles, which included eight tackles-for-loss. Taylor also played some offense last year, scoring two touchdowns in limited action at running back and receiver. The senior linebacker proved to be enough of a playmaker on defense that Adams State University offered a scholarship in the spring. Sports360AZ.com recruiting expert Jason Jewell recently ranked Taylor the No. 19 linebacker in the state. This season Taylor will lead a Broncos' defense that returns a few starters from last season. In addition, his workload on offense will increase as a starter at running back and slot receiver. It was a given entering the season that Taylor would make an impact on defense, now as a two-way starter this season he'll have twice as many opportunities to help the Broncos win games.
Sergio Hernandez (Sr), WR/SS – 6'3" 220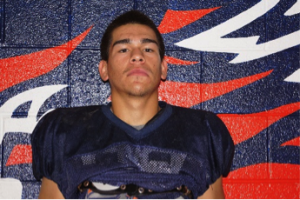 Hernandez not only looks the part of a big-time Division I college prospect, he plays like one too. The No. 13 ranked defensive back in state, according to Sports360AZ.com recruiting expert Jason Jewell, already has an offer from Adams State University and has attracted attention from schools such as New Mexico, San Diego State, and Montana. Just as he did a year ago, Hernandez will be a two-way starter for the Broncos this season. Last season he finished with 45 tackles on defense while averaging more than 20 yards per reception with one touchdown on offense. Hernandez spent most of last season learning the receiver position and now with a year's experience under his belt he's expected to be a favorite target of new starting quarterback Shavez Hawkins.
Daniel Ramirez (Sr), G/LB – 5'10" 215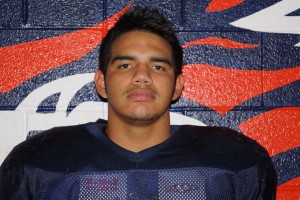 Ramirez is another returning two-way starter for the Broncos. A valuable defender last season, the undersized senior guard is perhaps more valuable this season along the offensive line, where he must provide protection for quarterback Shavez Hawkins and open holes for running backs Josh Hatfield and Taylor. In nine games a year ago, Ramirez totaled 32 tackles on defense, including six tackles-for-loss. The senior also serves as the Broncos' kickoff specialist. Ramirez will resume his position at linebacker alongside Taylor this season, adding even more experience to a defense that may have to carry the load for the first few games while the offense breaks in a number of new starters.