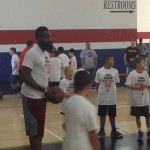 Great to see James Harden back in the Valley! The former Sun Devil and current NBA star is putting on his first ever basketball camp in Arizona. I've been to these types of events through the years and many times the players put on a  show for the cameras and are out the back door. Not Harden. He was engaging and fun with the kids at Inspire Courts in Gilbert. Harden has been in the news on several fronts including his new $200-million dollar shoe contract with Adidas. I asked him about that and some other items.
Harden went from station to station working with kids on s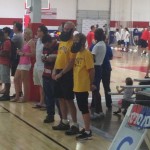 everal aspects of their game. He was completely relaxed in the environment and even played one on one with some of the campers. I'm always amused with the fans who show up wearing the Harden signature beard. There were a few of those at the camp.